The softness of the cocooning room will be perfect for your well-being. Here are 15 ideas for a pleasant decoration that will turn your space into a real haven of peace.
1- Bedroom in Scandinavian style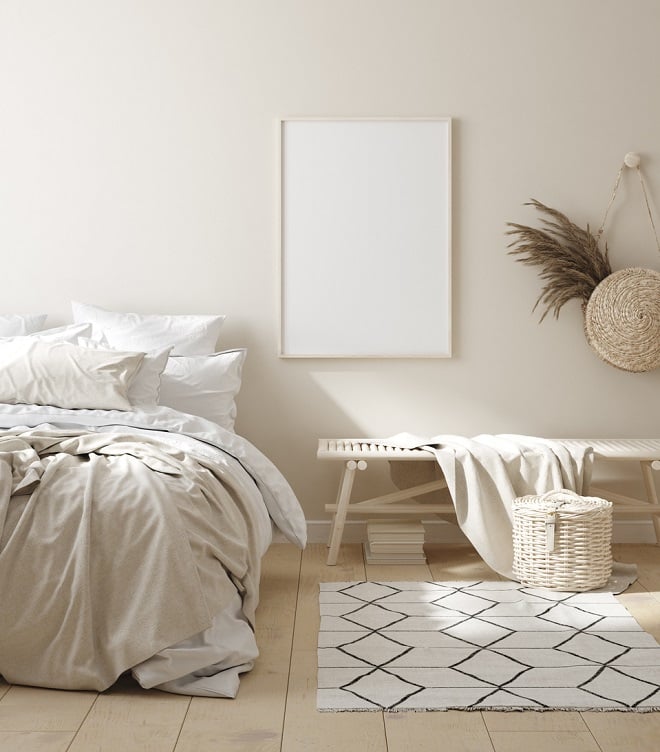 See also
Scandinavian bedroom. Credits: Artjafar
With its gentle colors and smart simplicity, the Scandinavian style invites you into comfortable bedrooms. In order to decorate the interior in accordance with this style, it is necessary to follow several rules. First of all, take care of the lighting of the room. The brighter it is, the warmer it will be. To multiply the light touches, arrange one or more mirrors. As for shades, sky blue, pale pink, white and water green are preferred. The combination of materials will also be appreciated. However, always prioritize quality and materials close to nature.
2- Bedroom in ethnic style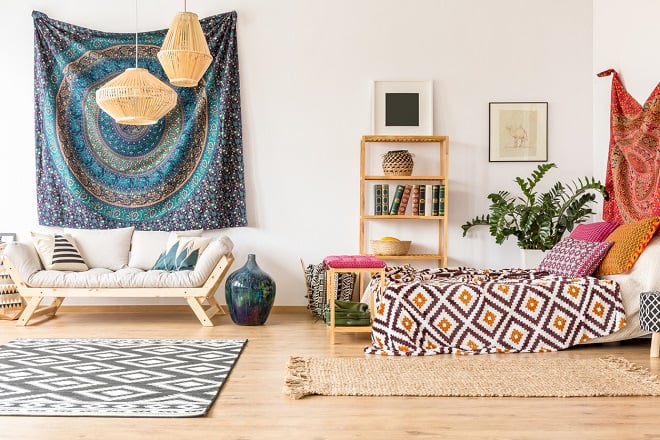 Bedroom in ethnic style Author: KatarzynaBialasiewicz
For a home that invites you to travel, there is nothing better than an ethno chic bedroom. This one decorating style it will rock your nights and create a zen atmosphere in this room meant for relaxation. To adopt an ethnic style, you can use a few authentic decorative items or a few decorative pieces inspired by African, Indian and Asian customs. As for colors, go for sunny colors like yellow. You can emphasize this style by choosing decorative elements or furniture made of wood, wicker and rattan. For bedding and curtains, linen is a light material that will fit nicely into this style.
3- Cocooned bedroom with light garlands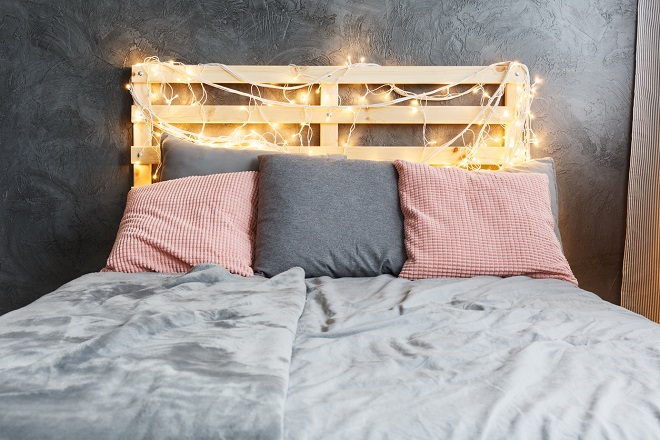 A bed decorated with a light garland. Credit: Katarzyna Bialasiewicz
For a warm bedroom, opt for subdued lighting. In addition to floor and night lamps, fairy lights will also create a beautiful atmosphere in the room. You can hang them above the table or use them as as a headboard. They are available in different sizes, shapes and colors for all tastes. Some models even allow you to hang a few polaroid photos to enhance them pleasant space. This type of light is perfect for rooms with white, pale pink or even gray walls.
4- A cocoon room full of small trinkets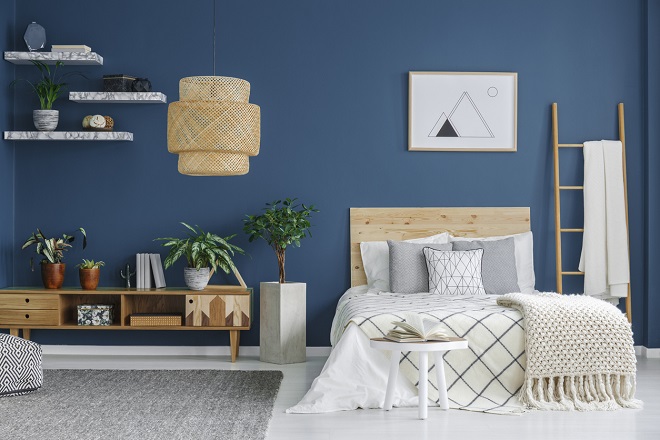 A few ideas for decorating the bedroom. Credit: Katarzyna Bialasiewicz
For a warm and soothing space, forget it minimalist decoration. It is ideal to fill your room with small decorations. For example, place some photo frames on the walls. You can also bet on various decorative items such as books, vases, green plants… If you want to create a well-decorated space, but still with a maximalist decorating style, a few wall shelves will also be perfect. This idea will do a less impersonal room and therefore will allow you to turn it into a real cozy cocoon. Do not hesitate to multiply cushions and seats for more originality.
5- Tidy-messy bedroom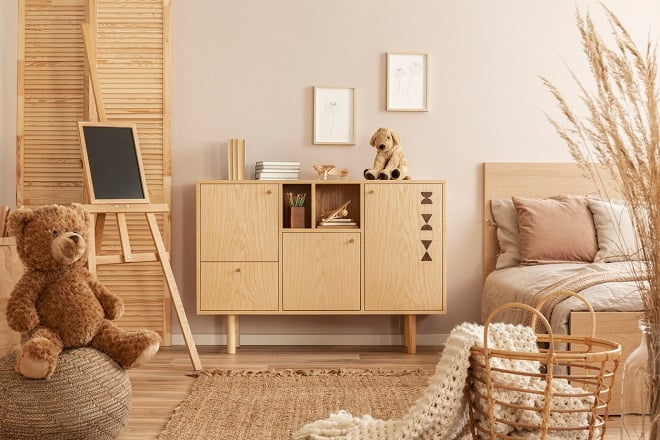 Bedroom decorating ideas for inspiration. Credit: Katarzyna Bialasiewicz
For a comfortable bedroom you must also respect neat-messy concept. It is about integrating several elements in the room and scattering them everywhere. For example, if you like to paint, you can store your materials on the table. If you are a photography enthusiast, hang your different shots on the wall and use your different equipment as decorative items. Then top it all off with a few decorative items (vase filled with flowers, papers, diaries, etc.) for a buzz effect without overdoing it. A neat-messy bedroom also means decluttering yours bed sheet on your bedding, ensuring that they are well arranged.
6- A cocooned bedroom with a chic country atmosphere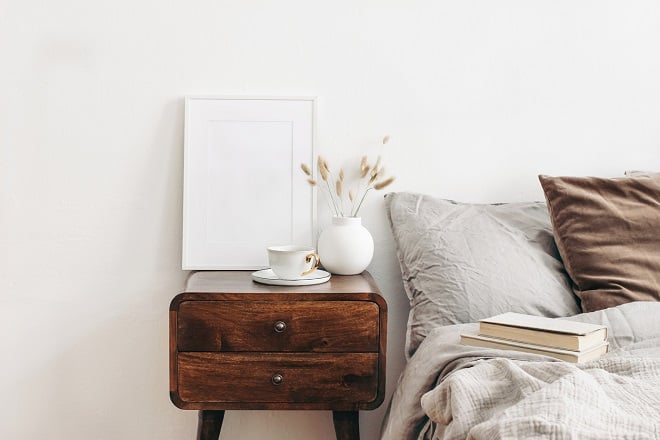 Bedside table model for your bedroom. Credits: Tabitazn
the chic country style it's also perfect for turning a room into a haven of peace. Relaxing and elegant, it will make you spend good moments of relaxation. There is nothing simpler to adopt this style. Mix neutral and soft colors like beige, white and monochrome. A small touch of pink will then sublimate everything. As for materials, preference is given to natural ones. Choose, for example, wooden furniture, wicker storage basketsa few poufs… To decorate the walls and bring more warmth into the room, hang a wall wattle.
7- A cozy bedroom with a reading corner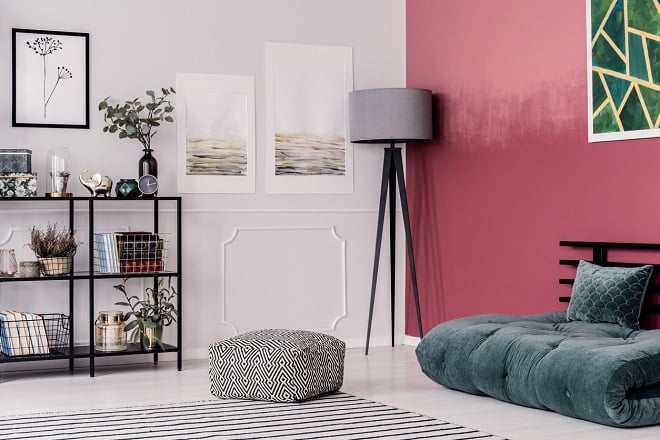 A reading nook idea for your bedroom. Credit: Katarzyna Bialasiewicz
The reading corner will emphasize cocooned character your bedroom. If you have a large window, do not hesitate to place there a small cozy area for reading a book during the hours of relaxation. Place several sufficiently thick and comfortable pillows on the edge. And the blanket will invite itself into this small space and warm you during the winter. To store books, place them on a small wooden shelf or basket. If necessary, do not hesitate to install a light pole light up your reading nook. This light will allow you to read for hours without the risk of eye damage.
8- A room for cocoons with a beautiful carpet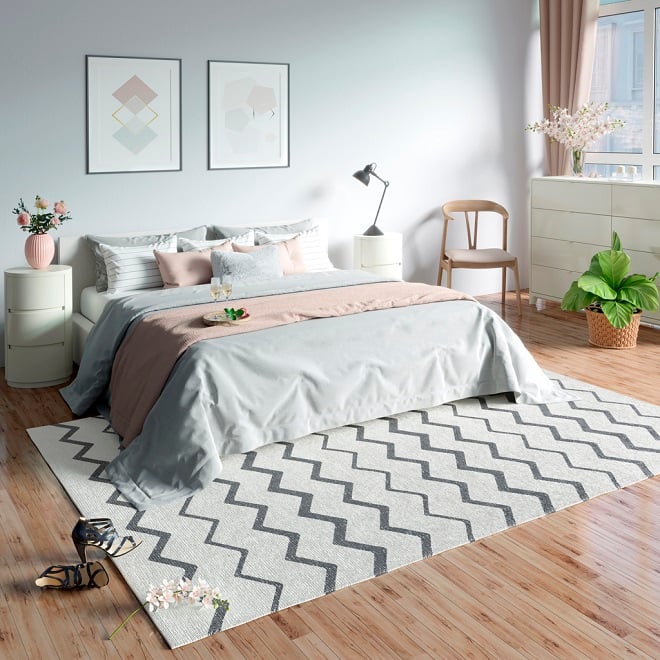 Bedroom carpet model. Credits: gamespirit
This one decoration idea recommended, especially when the temperatures start to drop. Prefer XXL models that can cover the floor on each side of your bed. So your feet will be warmed up as soon as you get up. Cozy carpets are soft and comfortable. Therefore, give preference to models designed from fur or from material pleasant to the touch, such as linen. As for the color, everything will depend on the shades chosen for the room. The monochrome carpet stay a safe bet if you want to avoid bad taste. Rugs with a pattern should be chosen carefully in order to respect the harmony of the room.
9- Comfortable bedroom with curtains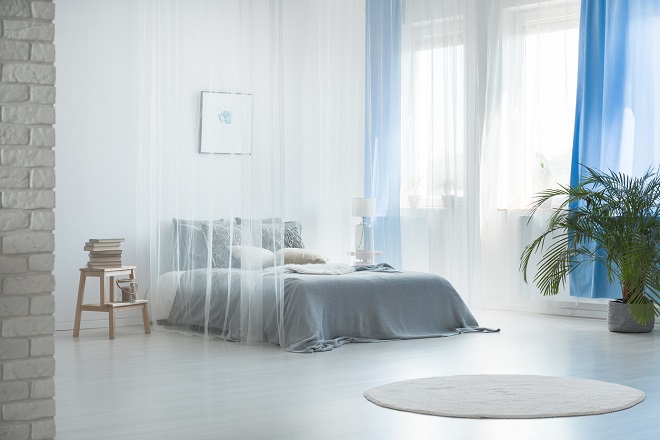 Curtains ideal for the bedroom. Credit: Katarzyna Bialasiewicz
Combine softness and romanticism leave heavy and bulky curtains aside in the bedroom. Instead, indulge in the lightness of the curtains. This type of curtains allows natural light to enter the room as soon as you wake up. In the evening, it offers dim lighting for a soothing, pleasant atmosphere. The advantage of curtains is that they adapt to small budgets. You will also have choice of several colors. If you have an all white room, a pale pink or aqua green curtain will be perfect. If the shade of the walls is quite warm, it is advisable to choose a transparent white color.
10- Bedroom with a bed in the attic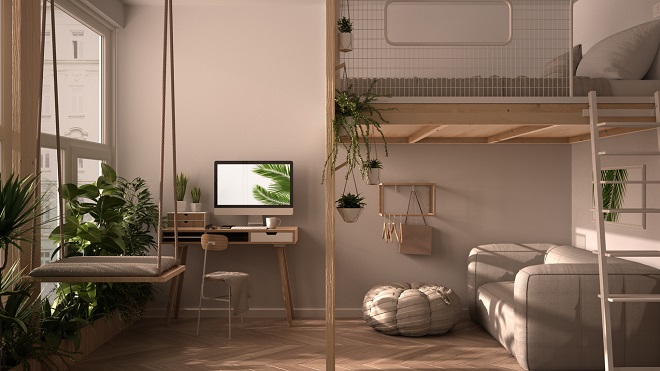 Loft model. Credit: ArchiViz
If you live in a studio, all funds are good for optimize space. For a bedroom in a narrow space, there is nothing better than a loft bed. This will give the room the impression of a cabin and immerse you in a warm atmosphere before going to bed. Attention. By deciding on a loft bed, you will have to use it decorative accessories light and harmonious. You also need to choose a modern bed model. If necessary, do not hesitate to seek the services of a specialist. He will create a custom-made bed for you.
11- Mountain house style bedroom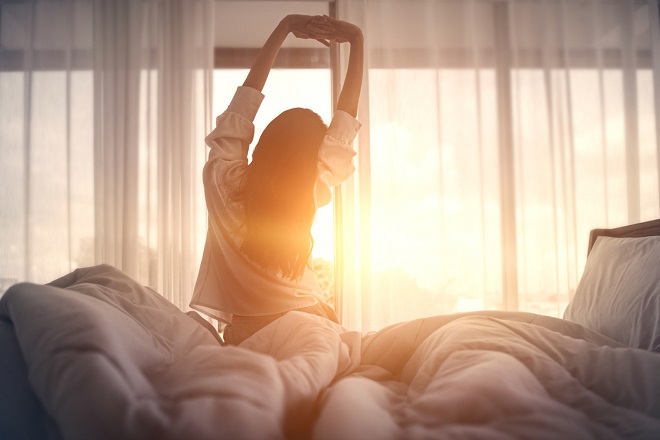 Cozy bedroom. Credits: oatawa
This one decorating style he has wind in his sails. Indeed, it guarantees friendliness and warmth in interiors. In order to adopt it, choose neutral colors dominated by gray. To enhance the pleasant character of the room, use furniture designed from natural materials. Mountain house style always favors minimalist decorations (small photo frame, modern vase, basket for things, etc.). You also have to pay attention to details. It is important, for example, to match the color of the bedding with the color of the curtains. The 100% comfortable materials there are just as many elements that should not be ignored.
12- Bedroom with converted attic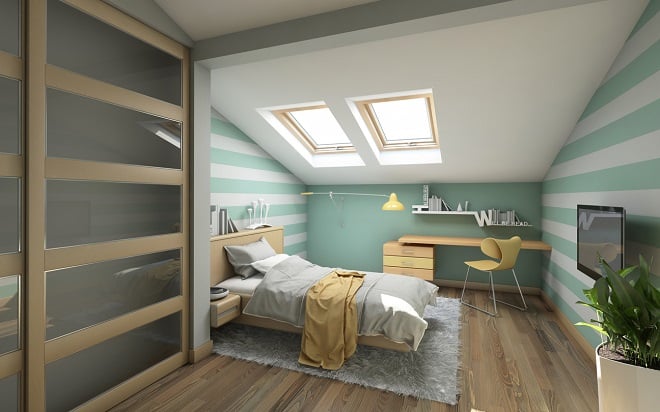 Bedroom with converted attic. Credit: krooogle
AND bedroom in the attic will automatically be cozy and warm. Even without skills, this structure will add character to the room. If you have a paneled room, don't hesitate to place your cozy cocoon there. Additionally, use some decorative accessories to brighten up the space. Between pictures, vases and comfortable pillows, the choice will depend entirely on your preferences. However, be sure to follow the rules childrenminimalist for a bright and cozy bedroom. Also take into account the lighting of the room.
13- Bedroom with beautiful wallpaper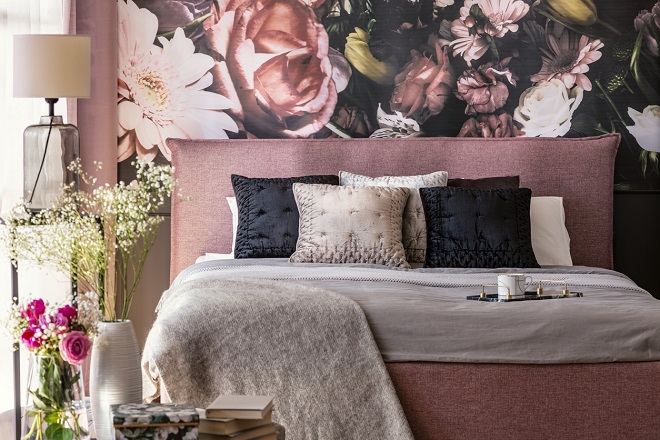 Cozy girl's room too. Credit: Katarzyna Bialasiewicz
For a bedroom filled with softness, cover part or an entire wall wallpaper is a genius idea. In addition to helping you save money, this option will also help you customize the room to your liking. Women will fall for papers with a floral pattern. The male gender will prefer wallpapers in neutral tones or geometric patterns. The choice will depend entirely on the style of decoration you want to create. In order to give this wall covering more value, you can bet on trendy decorative elements such as hanging birch trees, sea grass rugs, night lamps…
14- Bedroom with canopy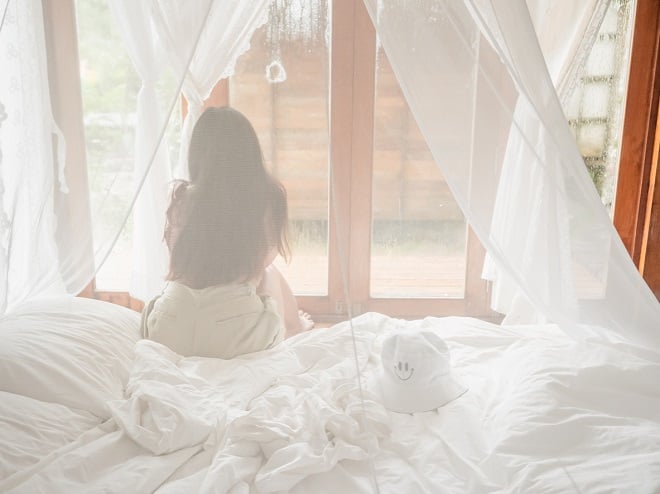 Bed canopy model. Credit: TongTa
Besides protecting you from mosquitoes, the canopy will also bring warmth to your bedroom decor. You will immediately fall into the arms of Morpheus thanks to his lightness. There are several types of bed canopy. You have a wide choice between romantic, bohemian and chic models. They are also available in different materials and colors. It is ideal to opt for a canopy that can match all your decorative accessories as well as the style you want to highlight.
15- Room with an armchair for relaxation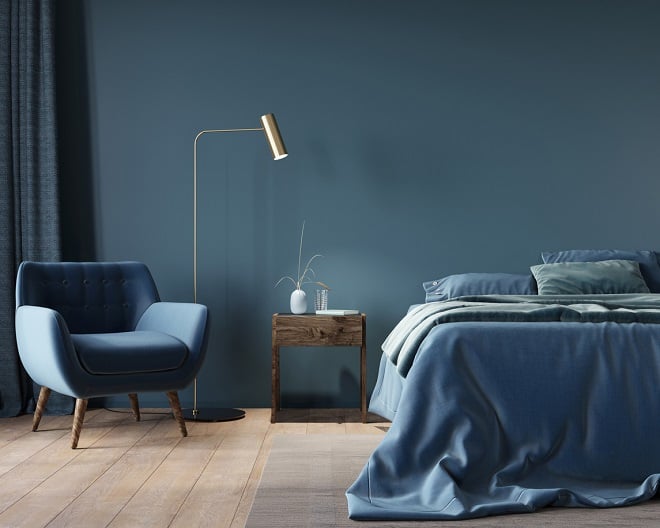 Armchair model for the bedroom. Credits: JZhuk
The bedroom should allow you to rest, find yourself, relax and read a good book. An armchair with a modern design will therefore find its place in your cozy cocoon. You can choose it according to the color code and style of the room. Pay attention to the choice of materials. It is important to choose a comfortable and ergonomic chair. To complement this furniture, you can bet on several well-padded cushions in a single color. Plaid will also be perfect to make your armchair more elegant and original.