In decoration, the trend is pastel colors. Sky blue, powder pink, chicken yellow or sage green… here are fifteen ideas for bringing pastel colors into your house or apartment.
This is a trend. Sky blue, powdery pink, chicken yellow or even sage green… Pastel colors named after the sticks used for drawing are in fashion. There are many possibilities for bringing pastel colors into the house: in paint or tapestry on the walls or in small additions of color with elegant decorative accessories (cushions, lights, seats, etc.) or designer furniture, in tone on tone or in harmonious color combinations, the choices are numerous. And, regardless of the interior, pastel lights up the rooms in the house, for a colorful and warm atmosphere. Beware, however, too much pastel kills pastel… Avoid: piling on pastel colors or completely pastel looks so as not to fall into the marshmallow effect. Here is a quick guide to using pastel colors.
See also
Pastels for all rooms in the house
Previously reserved for children's rooms, light pink, sky blue or pale green, pastel colors now invite the whole house. Pastel-colored chairs bring light into the kitchen; colored wall lamps in the living room adorn the ceiling; pastel pillows decorate the couch or bed; tapestries with pastel motifs decorate the walls. Briefly, whatever the room, pastel colors are perfect for brightening and beautifying. In addition, pastel goes just as well with designer interiors as it does with more traditional decor. In the first case, pastel colors will bring warmth, in the second, modernity. And why not go pastel outside with colorful garden furniture? The pastel trend, which comes from Scandinavian decoration, adapts to everything, when followed with good taste. Therefore, pay attention to color combinations.
Complementary pastel colors
Be careful, if the pastel colors are bright and soft, some chords can quickly become shrill. Namely: pink goes perfectly with green (especially aqua green), on the other hand, it is not very harmonious with blue. Blue and orange colors are absolutely complementary. Blue can also be mixed with yellow (chicken yellow, straw yellow, mustard yellow, curry yellow), for a dazzling effect. Note that yellow also goes really well with purple, a bold yet elegant combination. Red and green are also complementary. AND, to avoid risky associations, tones on tones or color shades are always safe and harmonious options. The combination of powder pink, salmon pink and pale pink will always work, and the combination of pale yellow with straw yellow and beige is guaranteed harmony.
Home decoration ideas in pastel colors
If you want to follow the pastel trend, here are fifteen decoration ideas in pastel shades that you can adopt in your home. To bring a little softness to your interior rooms and for a warm atmosphere. Everything in style!
DECORATION IDEA NO.1: CHOOSE WALLPAPERS IN PASTEL SHADES FOR THE BEDROOM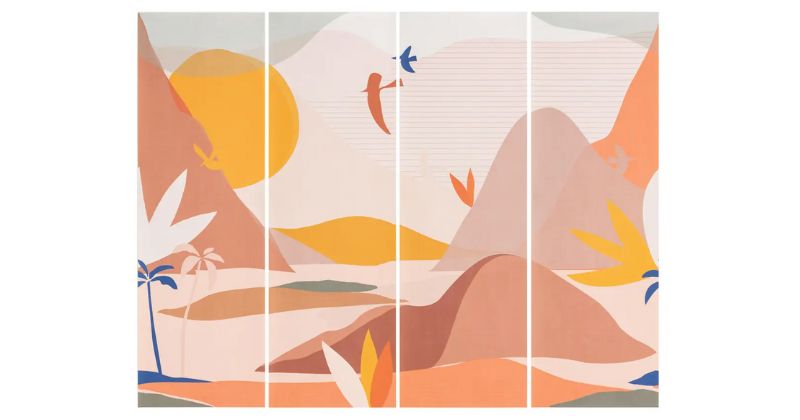 Multicolored panoramic wallpaper in pastel tones (La Redoute), price: 289 euros
Ideal for decorating the walls of a children's room, but also a room for adults, for example the headboard. For gentle and colorful awakenings.
DECOR IDEA NO. 2: CHOOSE A CARPET IN PASTEL COLORS FOR THE LIVING ROOM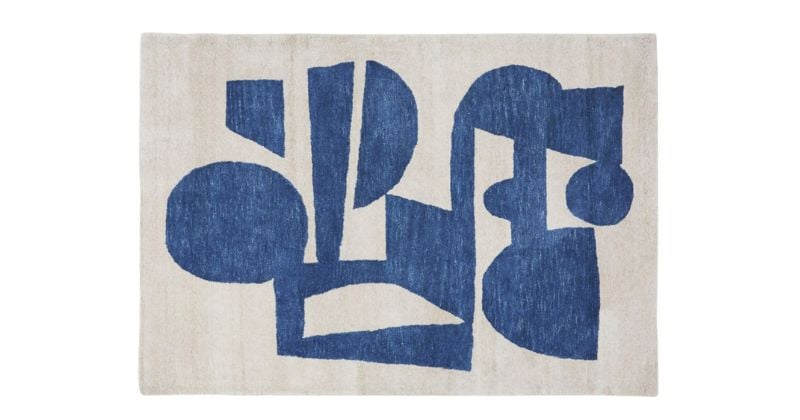 Ecru and blue hand-tufted carpet made of wool, linen and viscose (Maison du monde), price: 499 euros
Perfect for lighting the living room, especially on a cold colored floor (white, gray) and for warming the feet on a cold floor. Artistic effect guaranteed.
DECORATION IDEA NO. 3: PLACE COLORFUL PILLOWS ON A BLACK OR DARK SOFA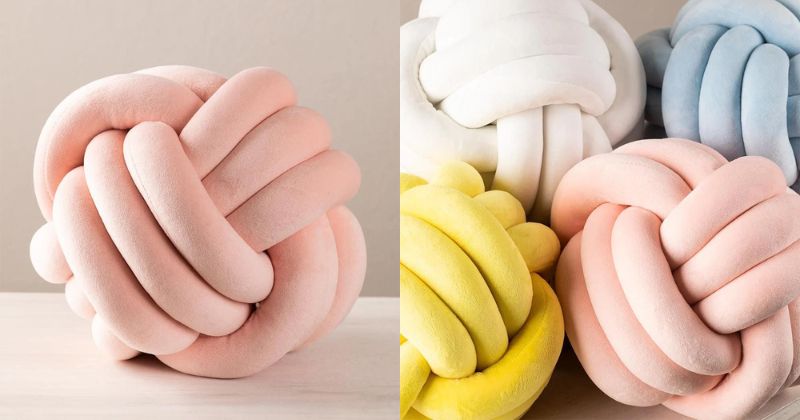 Velvet pillow in yellow, sky blue or powder pink (Sklum), price: 19.95 euros
In a child's room with white walls or on a black or dark sofa, these colored pillows will bring some light into your decor. Plus, they're super soft!
IDEA FOR ARRANGEMENT NO. 4: DRESS THE LIVING ROOM WITH COLORFUL COFFEE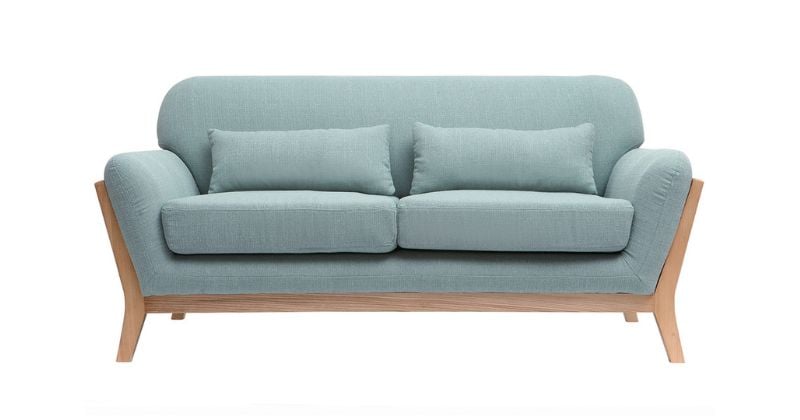 Scandinavian two-seater with wooden legs in lagoon green, light gray, mustard yellow or beige (Miliboo), price: 699.99 euros
The sofa is (often) the central element of the living room. And, if the rest of the room is quite sober, why not opt ​​for a pastel-colored sofa? It will be the star of your interior!
DECOR IDEA NO. 5: CHOOSE A PASTEL BLUE LAMP FOR THE BEDROOM OR OFFICE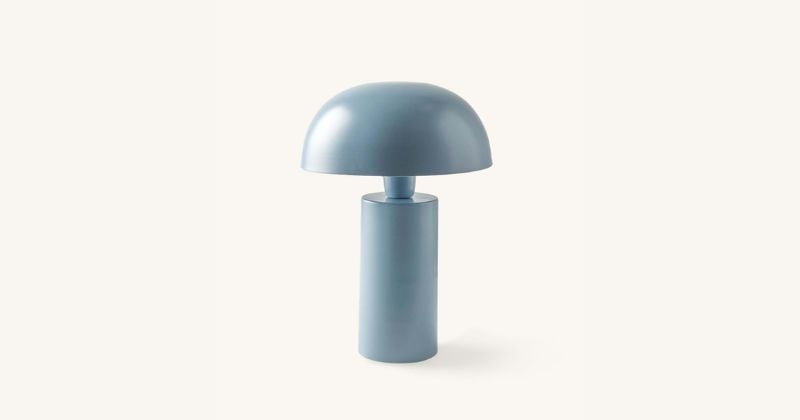 Sky blue table lamp (Søstrene Grene), price: 36.90 euros
On the desk, a colorful lamp will bring a little joy to your work, and on the nightstand, it will brighten up the early mornings.
DECORATION IDEA NO. 6: CHOOSE CHAIRS IN PASTEL SHADES FOR THE DINING ROOM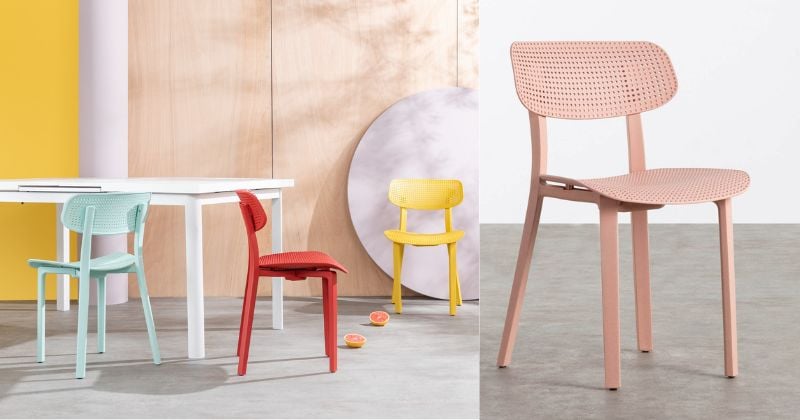 Polypropylene dining chair (The Masie), price: 58.95 euros
Bring some color into your dining room with colorful chairs. For an even more modern result, don't shy away from mismatches.
DECOR IDEA NO. 7: ADD COLORED LIGHTS TO DRESS UP THE HIGH CEILING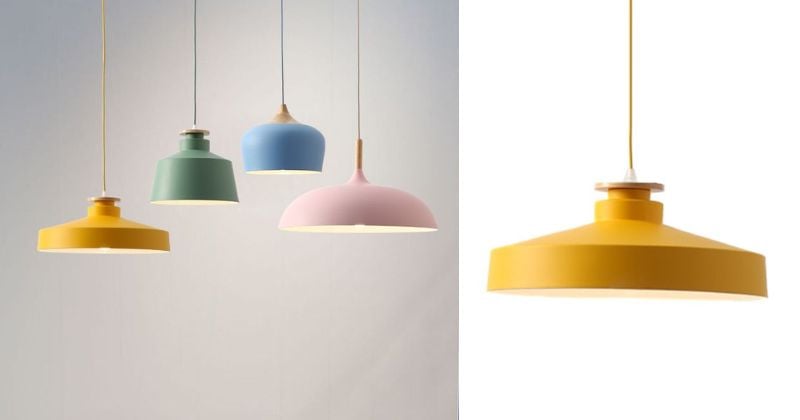 Metal suspension in the form of a yellow cap, also available in other forms of water green, sky blue or powder pink (Litfad), price: 110.57 euros
Pastel trend from the floor… to the ceiling. Brighten up your interior with colored hangings.
DECOR IDEA NO. 8: IN THE LIVING ROOM PLACE A PASTEL DOT NEXT TO THE COFFEE TABLE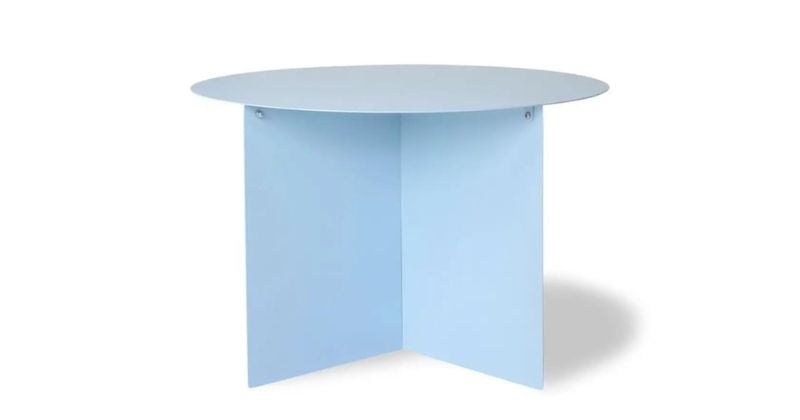 Round coffee table in light blue metal (La Redoute), price: 239 euros
In an interior with a sober design, a pastel coffee table will bring softness and warmth, in a more traditional living room it will bring a touch of modernity.
DECOR IDEA NO. 9: CHOOSE A PASTEL YELLOW STORAGE UNIT FOR A STYLISH EFFECT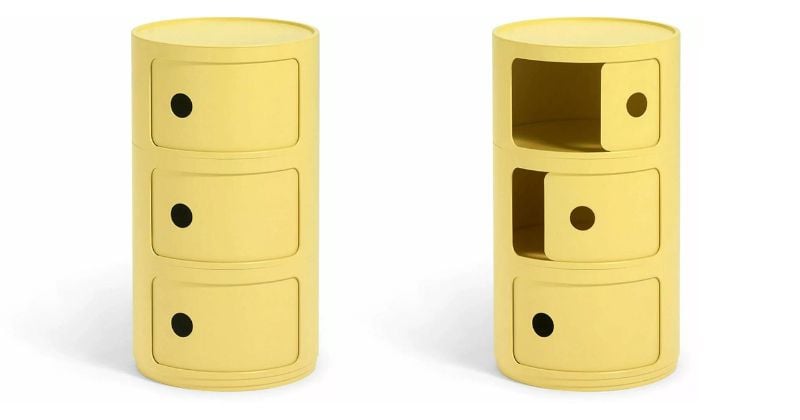 Pastel yellow storage for drawers (The Cool Republic), price: 209 euros
Here is a decorative item that looks like a piece of art to dress up a room in your home, like an office.
DECORATION IDEA NO. 10: CHOOSE A PASTEL STOOL FOR THE DINING ROOM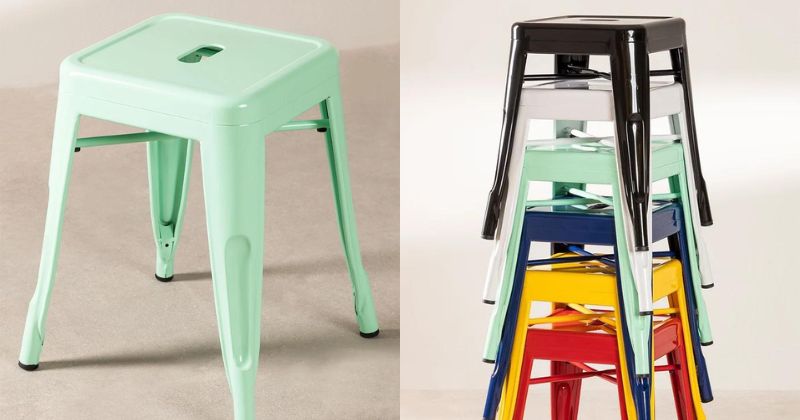 Low stool in black, white, mint green, freesia yellow or red (Sklum) steel, price: 36.95 euros
Break the cold side of the industrial metal chair by choosing a colored version!
DECOR IDEA NO. 11: PUT COLORS ON THE WALLS WITH PASTEL APPLICATIONS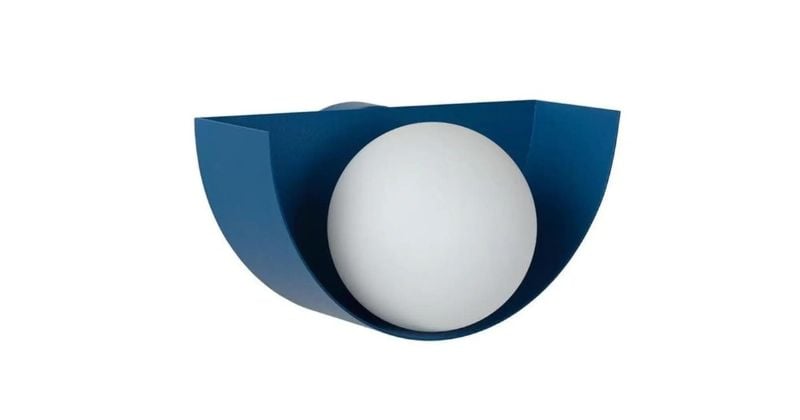 Wall lamp in pastel blue glass (La Redoute), price: 29.95 euros
If you are afraid to cover the wall with a pastel color, you can dress it in color with colored sconces, like this blue wall lamp.
DECOR IDEA NO. 12: CHOOSE COMFORT (AND STYLE) WITH A LAVENDER POUF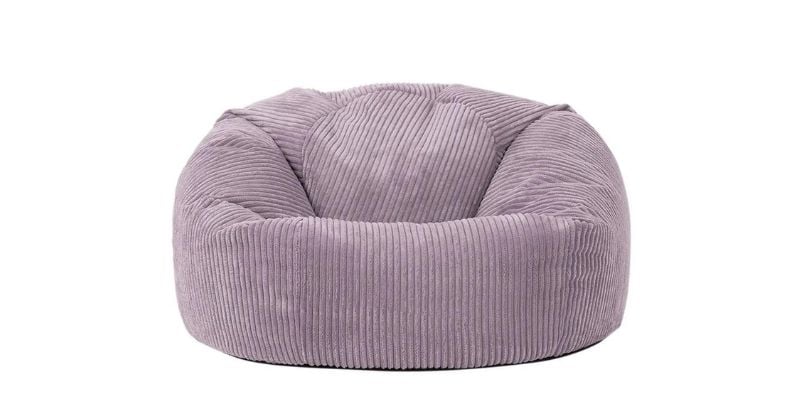 Classic velvet bag (La Redoute), price: 135.96 euros
Combine comfort and style with the lavender velvet ottoman.
DECOR IDEA NO. 13: A TOUCH OF PASTEL WITH A VASE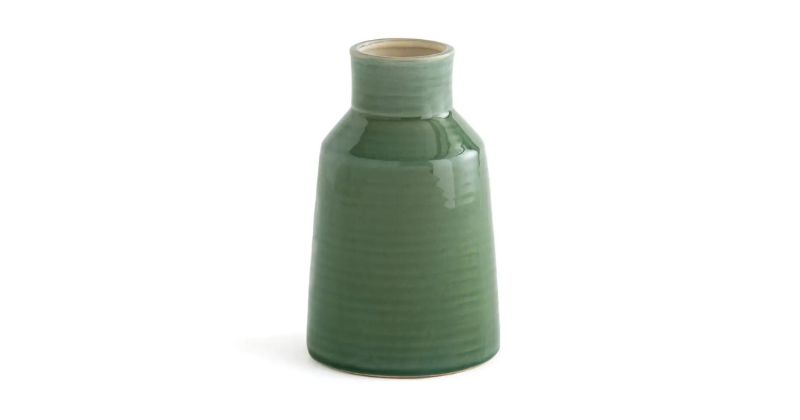 Ceramic vase (La Redoute), price: 19.99 euros
To highlight your bouquet of flowers, opt for a green vase!
DECORATION IDEA NO. 14: CHOOSE A PASTEL DECK FOR DECORATING THE GARDEN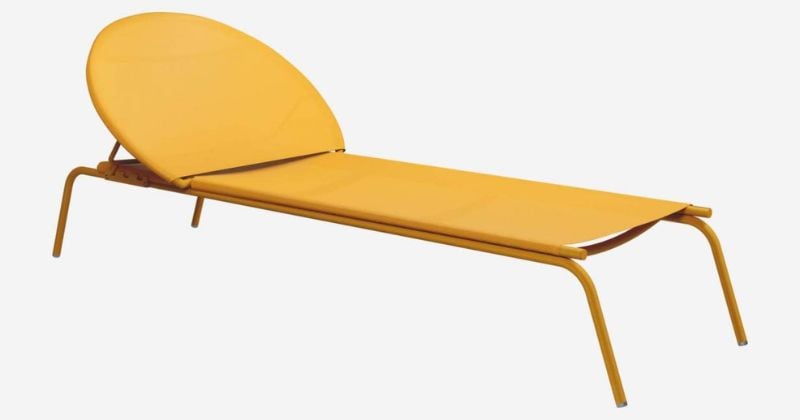 Lounger made of aluminum and textile in yellow, khaki green, brick red or midnight blue (Habitat), price: 299 euros
On a green lawn, a yellow or brick-red lounger will perfectly decorate the garden. And in the summer you won't be able to leave it.
DECOR IDEA 15: ILLUMINATE THE TERRACE OR GARDEN WITH CHAIRS IN PASTEL COLORS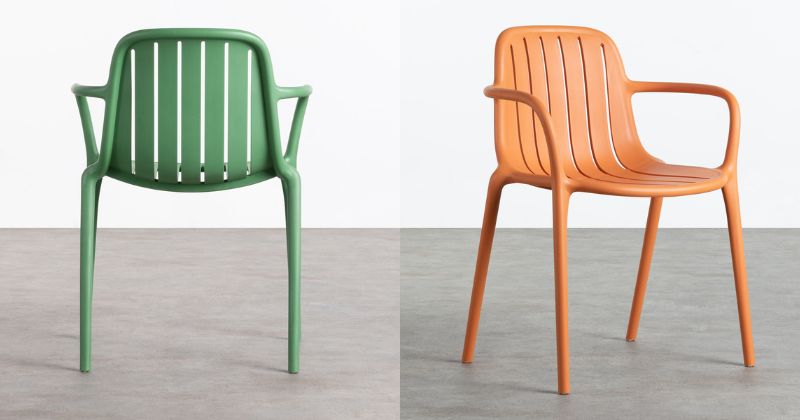 Outdoor polypropylene chair in light orange, white, light gray, crimson red, grass green or lemon yellow (The Masie), price: 104.95 euros
Pastel chairs are ideal for a bohemian chic exterior. Add a light garland and you will have the perfect decor for summer evenings in the garden.