Since it is the central room in the house, the living room must be carefully decorated. The possibilities are limitless. Here are 15 decorating ideas that will inspire you.
15 ideas for decorating the living room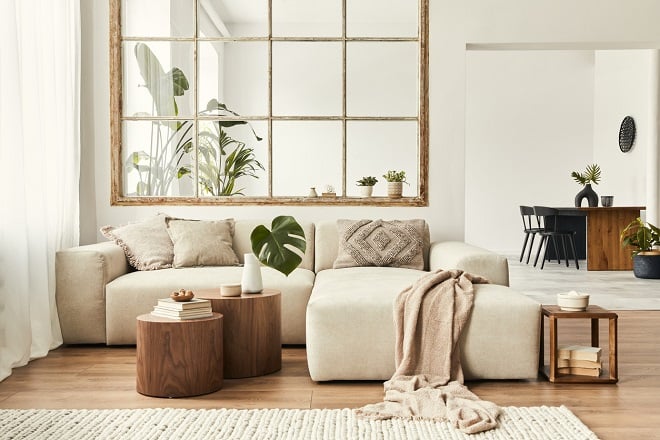 Living room with designer modular sofa Credit : FollowTheFlow
See also
Here are 15 ideas for decorating your living room:
1. A colorful sofa for a cocooned and original look: this brings style and personality to your living room. Choose the color of the sofa according to your taste (olive green, powder pink, blue or mustard yellow sofa…)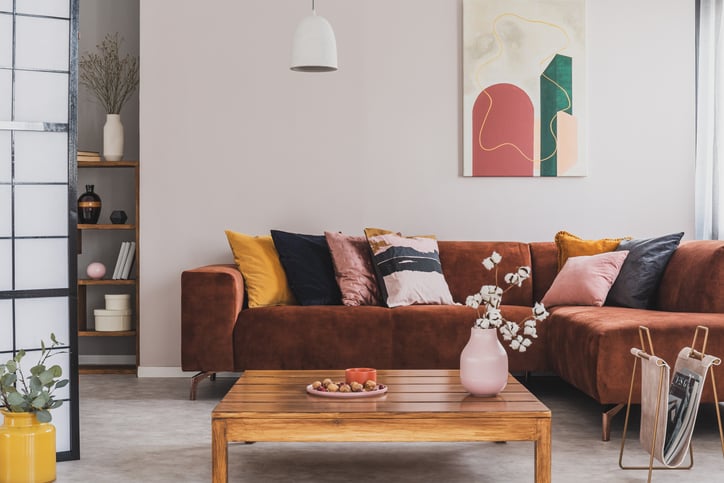 A colorful sofa for your living room. Credit: Istock
2. Raw wooden decor : raw wooden decor gives a natural spirit to your living room. In addition, it brings a touch of modernity to the room. You can use reclaimed wood for your walls or floor to give your living room a rustic and eclectic look.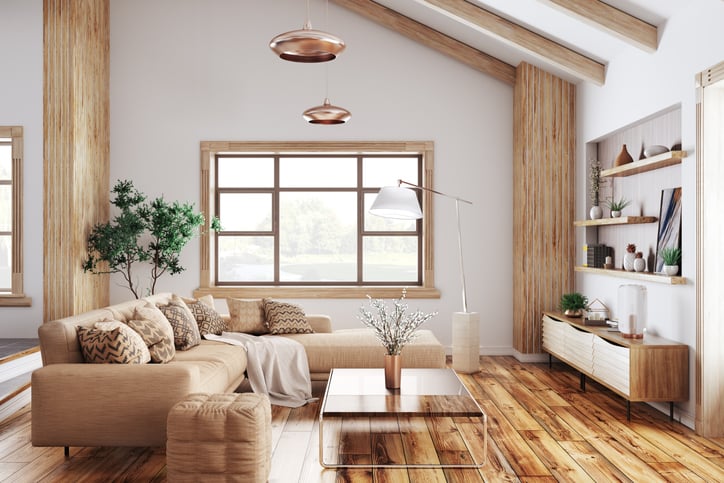 Modern living room in natural wood. Credit: Istock
3. An armchair in front of the sofa.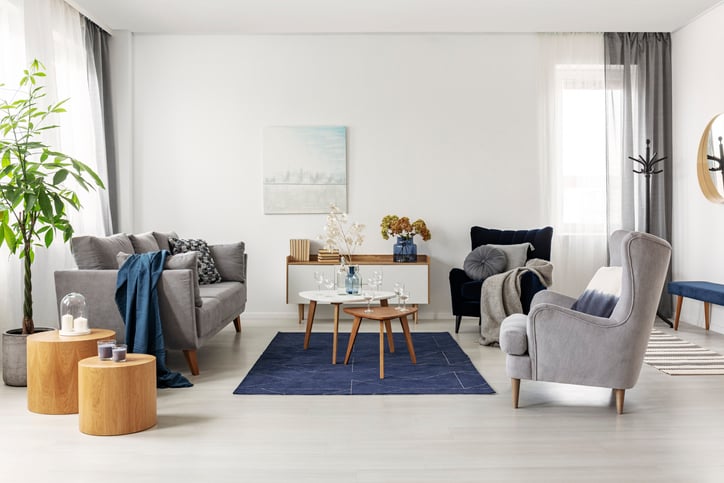 Comfortable living room with a sofa and two armchairs. Credit: Istock
4. Plant wallpapers on one of the walls: opt for a plant print on one of the walls of your living room to keep the natural look. Choosing wallpaper with a plant pattern brings an extra touch of softness to the room. Also, it will give you a pleasant feeling.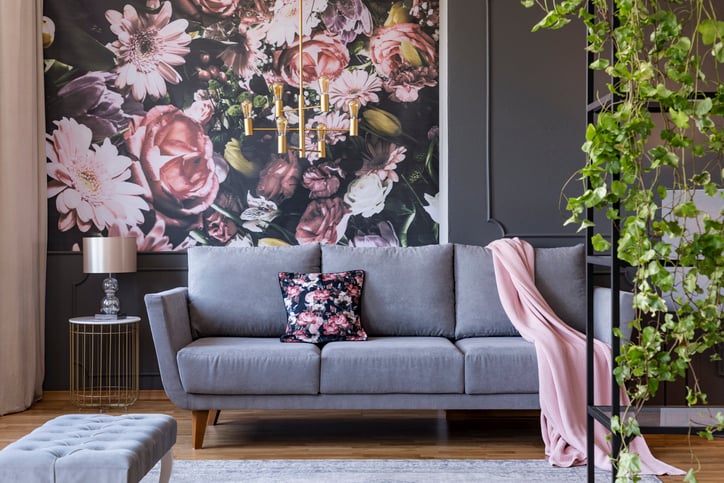 Floral wallpaper for your living room. Credit: Istock
5. Cacti to beautify your living room: these plants require little maintenance. In addition, they come in many sizes and shapes. They are ideal for bringing a touch of originality into your living room.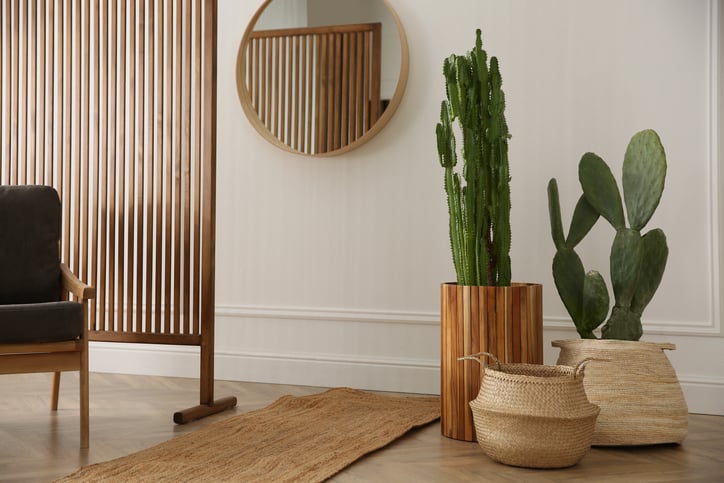 Cactus for zen decor. Credit: Istock
6. Accessories in Berber style : this trendy style creates a vibration cocoon and warm in the living room. Add Berber pillows to the armchairs and sofa, which will bring contrast to the decor of your living room. Also opt for a Berber rug to enhance the ethnic style and add an elegant tone to the room. With its handmade accessories, traditional patterns and warm colors, the Berber style can enhance your living room decor.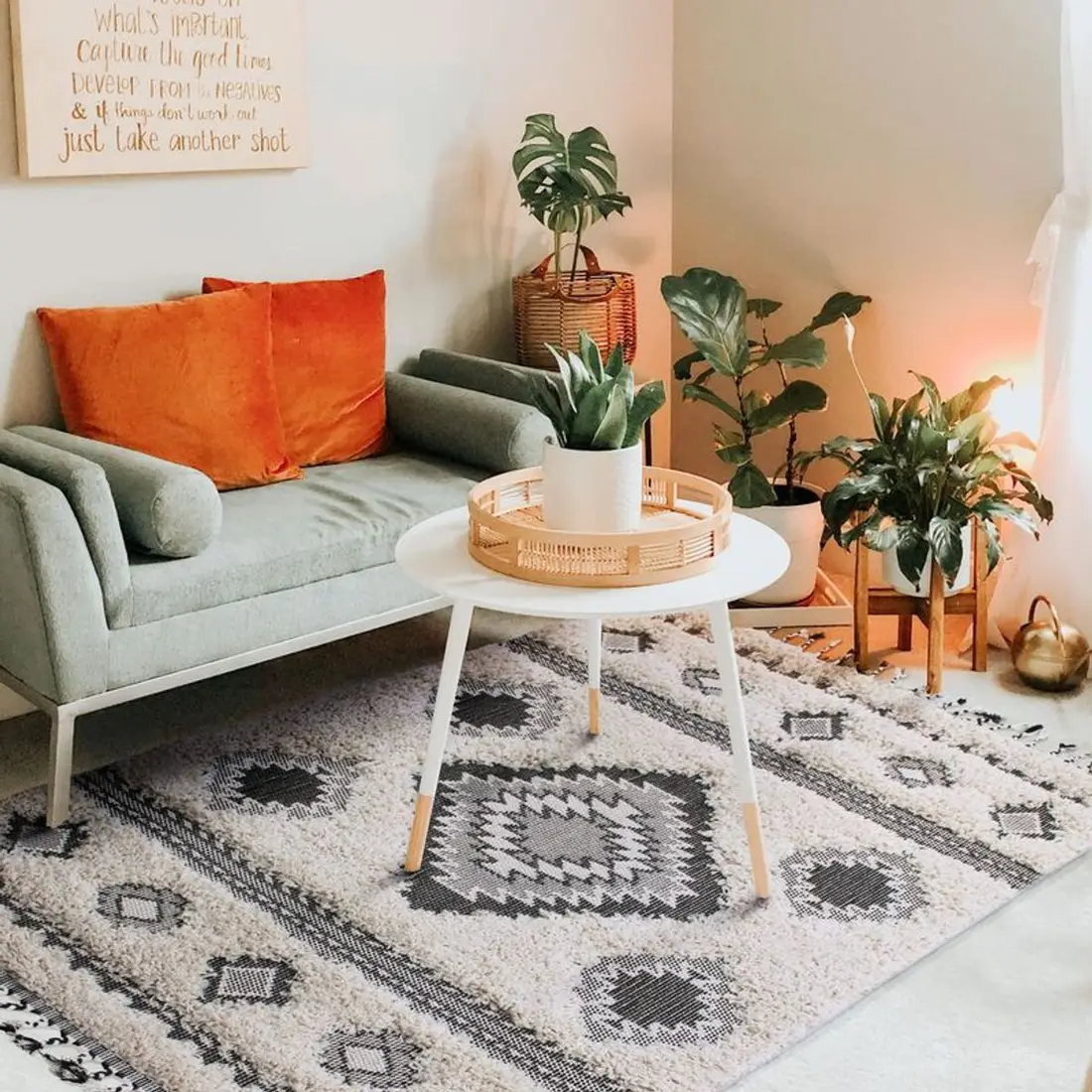 Berber carpet. Credit: Istock
7. Library: besides you can store your books and other items in it, this piece of furniture can also be used to give a special look to your living room. For a room that is both welcoming and elegant, opt for a warm and original design. If you have enough space, choose a large bookshelf. You can also store your decorative accessories.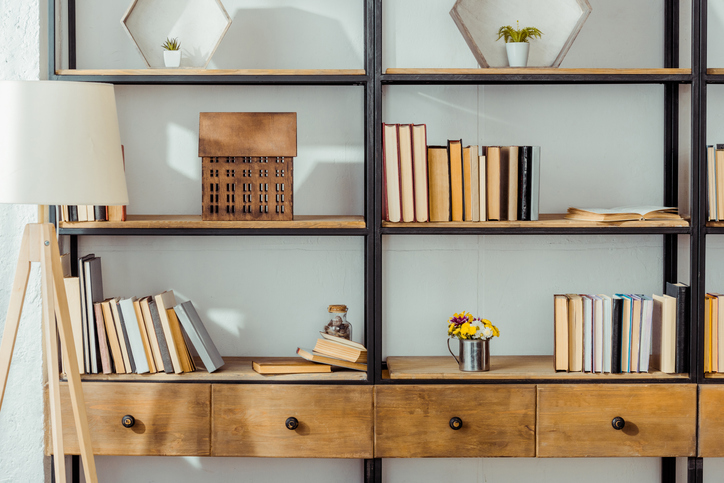 A small library for your living room. Credit: Istock
8. Vintage look to bring a touch of originality: to create a welcoming and comfortable space, you can opt for a vintage style (seagrass carpet, thick curtains in warm colors, a picture, a lamp on the side table, etc.) . Do not hesitate to restore wooden furniture!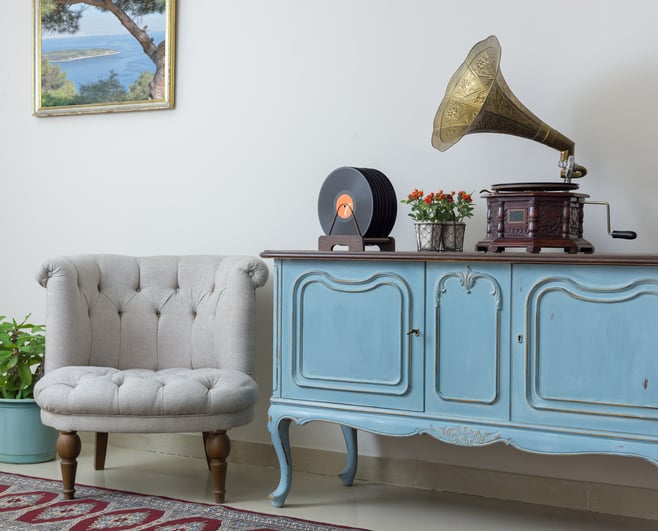 Vintage living room with restored wooden furniture. Credit: Istock
9. Several frames on the wall: place many frames on the wall to create a friendly and pleasant atmosphere. It is recommended to choose the same pattern or color family as the floor or sofa.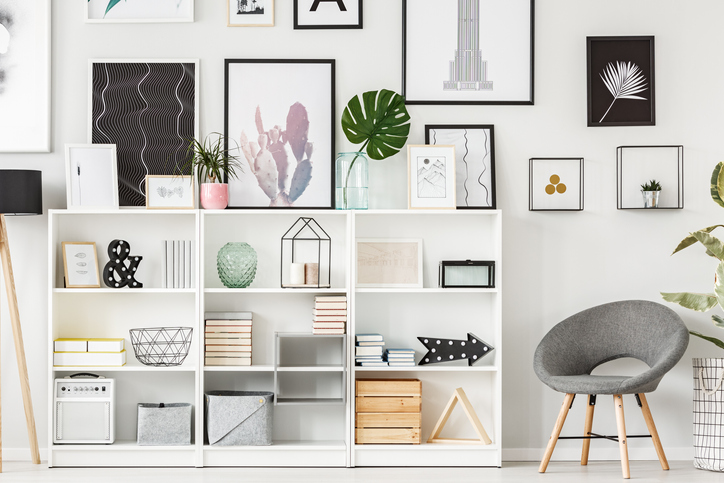 Arrange several frames in your living room. Credit: Istock
10. From patterned wallpaper : gives personality to your living room. There are many patterns and styles to choose from. Wallpaper is ideal for additional comfort and warmth in a room.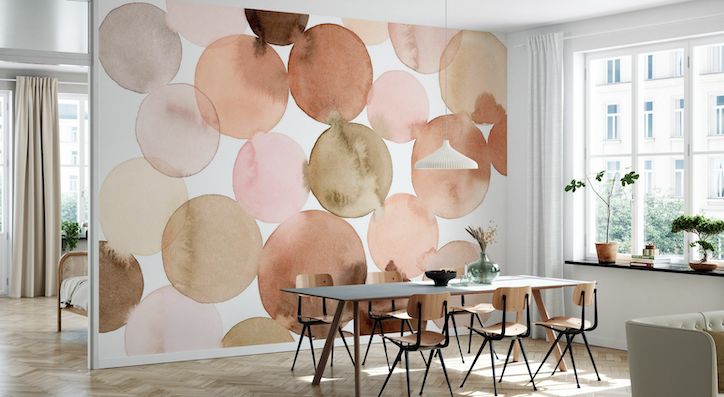 Patterned paper for your living room and dining room. Credit: Istock
11. Candles: they are suitable for creating a luminous atmosphere. You can also add lighting fixtures to create a soothing and warm effect in your living room.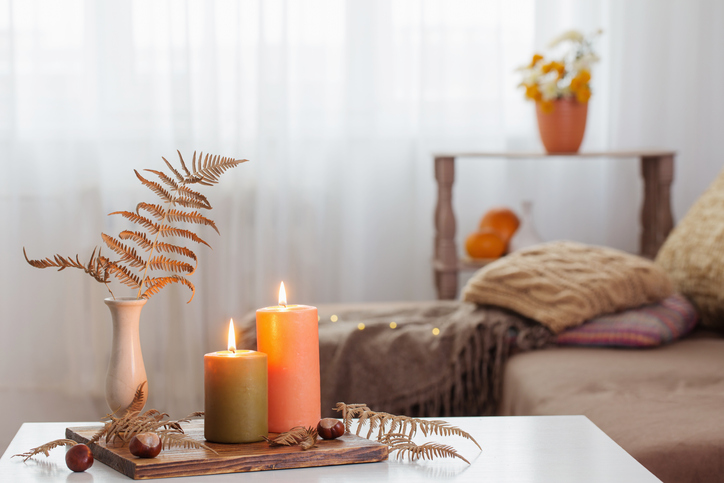 Candles arranged on the coffee table in the living room. Credit: Istock
12. AND asymmetrical coffee table : you can opt for a pull-out coffee table. Attractive and original, it gives character and comfort to your interior. In addition, an asymmetrical coffee table has the advantage of being practical and functional.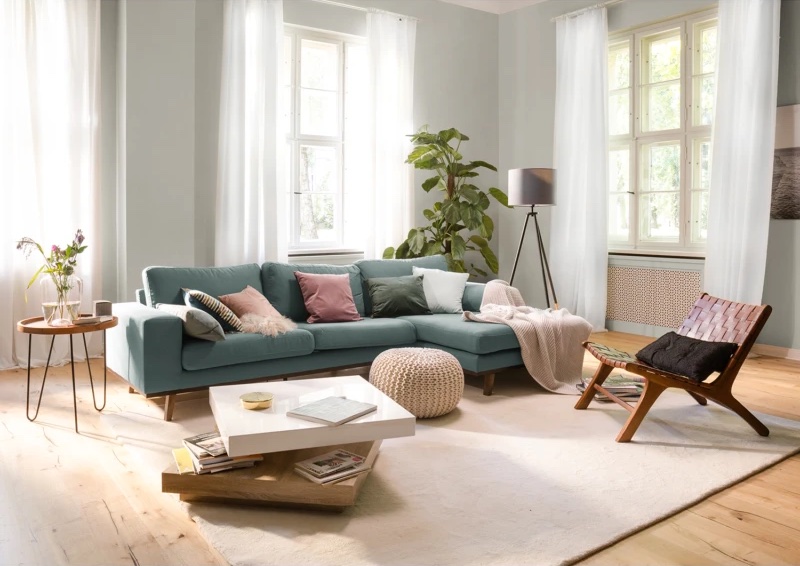 An asymmetrical table for your living room. Credit: Istock
13. Side table on the side of the sofa: small furniture is important when it comes to interior design. For a cozy and simple living room, add a small side table to the side of the sofa. Besides making your decor warmer, it's perfect for placing your books, drinks or remote controls.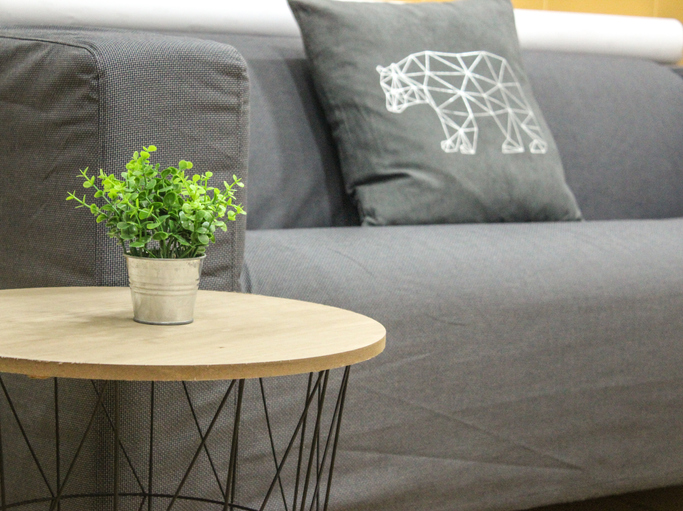 Side table for the couch in the living room. Credit: Istock
14. Fireplace: in addition to providing warmth and comfort, it can be the focal point of a room and give it character. It is worth choosing the right type of fireplace for your house or apartment.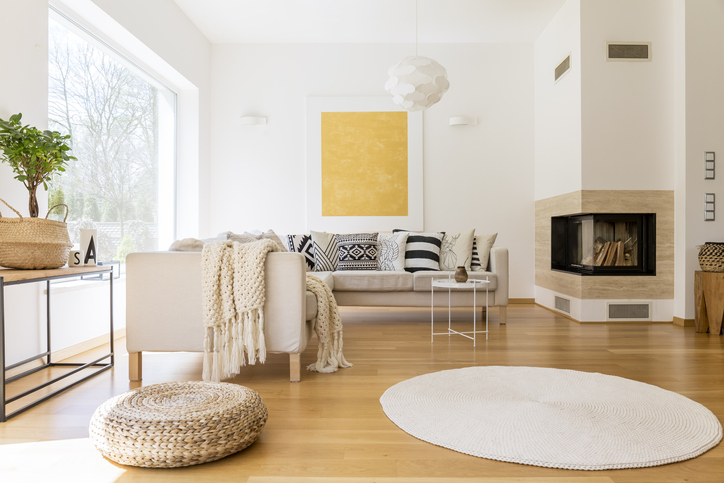 A fireplace in your living room. Credit: Istock"
15. Living room with multiple colors: this improves the tone of the room and makes it more comfortable. You can opt for touches of pastel colors or even primary colors for your accessories, furniture and decorations.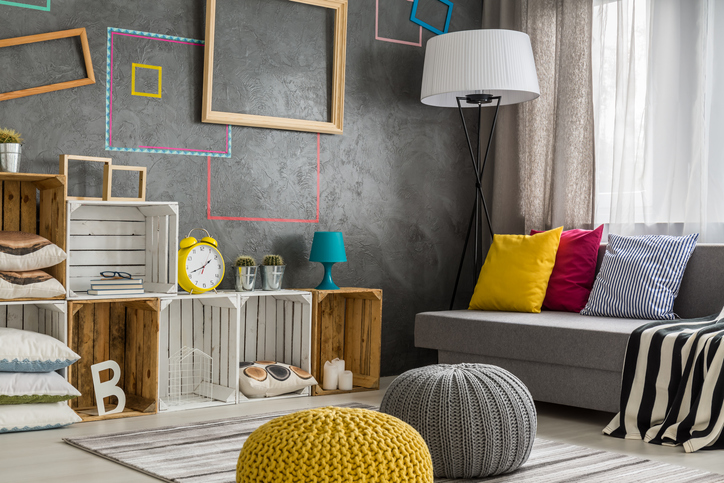 Colorful living room. Credit: Istock
Which decorative trends to adopt in the living room?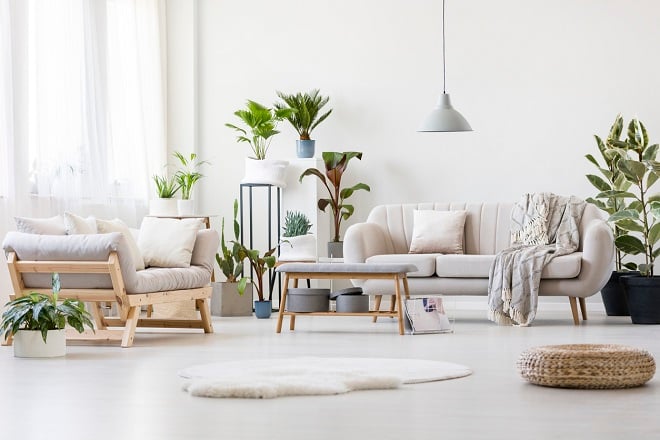 Spacious living room with plants Credit : Katarzyna Bialasiewicz
To feel good in your living room or living room, it is advisable to add a touch of cocoon. To do this, opt for natural materials such as bedding for pillows or sofa, wooden furniture. . . For original interior decoration, you can bet on vintage items. To create a retro style and give your living room a flea market look, opt for old colors. You can also choose a Scandinavian and refined style.
Regardless of the room you want to decorate (living room, dining room, etc.), the chosen decoration (cocooned, vintage, modern, Scandinavian, Zen or bohemian chic) ​​must reflect your personality and your state of mind.
A few tips for designing and decorating your living room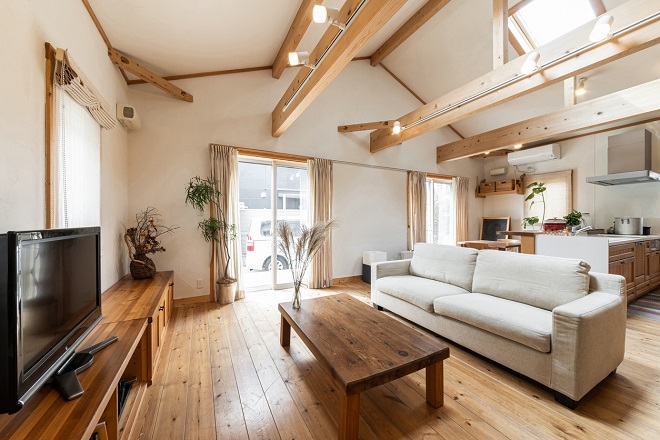 Living room in a loan house : kazuma-seki
Are you looking for inspiration or ideas for furnishing and decorating the living room? A few tips should be followed. There are many parameters to consider: furniture, light, storage space, furniture orientation and fit.
Like all rooms in the house, it should be they prefer certain colors. Beige, white and light gray are trendy and timeless. You can also bet on a part of the wall with more intrusive tones (dark green, deep blue, burgundy…). As for the seats (armchair or sofa), choose them according to the space. Their schedule depends on several factors. In addition, consider decorating your walls with shelves, frames or other decorative elements.
Here are some tips to liven up your living room:
Decide on adapted furniture : to avoid cluttering the space, opt for small furniture if your living room has limited dimensions. In a small space, opt for a coffee table. Glass tables are also a great choice as they allow light to pass through. To expand the space, if possible, hang the TV on the wall.
Arrange them optimally: avoid sticking your large pieces of furniture (couch, armchair, etc.) to the walls as much as possible. Instead, place them in the center of the room so that they form a square.
Decorate the walls of the living room according to the style you are looking for: to give the room a sense of grandeur, you can add a large round mirror. To create the effect of depth, opt for wallpaper.
Choose the right accessories : for a small living room, you can bet on minimalist decorative accessories. Choose natural materials such as wood. You can add wood-framed frames, fresh or dried flowers, clear vases with candles or even wicker baskets.
Plan a storage for objects and accessories: integrate minimalist shelves, a thin shelf with thin shelves, a large container or a basket in your living room.
do it good choice of materials for the interior decoration of your living room: whether it is curtains, cushions or fabric to cover your furniture, give preference to light materials and pale colors: white, pale gray, pale pink or beige. For occasional chairs, it is preferable to choose natural materials such as rattan.
Clear the space: Consider installing a bookshelf or other furniture to store books and accessories. Choose bookcases with doors or drawers.
Diversify them areas of illumination : lighting is an aspect that should not be neglected. There are different types: ceiling, lamps, table and floor lamps. . . The latter allow the creation of different zones in the living room or living room.
Let the light in : brightness makes the space more spacious, both for small and large rooms. Do not forget to clean the windows in the room to let in daylight. Opt for bright window coverings.
Add some greens : plants are perfect for giving a natural effect to your living room. Opt for plants that grow tall, not wide. You can also add suspensions.
Prioritize light colors for the walls : Choose shades of white or other pale colors. You can integrate colorful colors into living room furniture or decorative accessories.
Add textiles: for a modern, warm and comfortable living room, bet on accessories and textiles. Add lanterns, a nice rug or various pillows. It makes your living room or living room welcoming, warm and comfortable.
Why decorate your living room?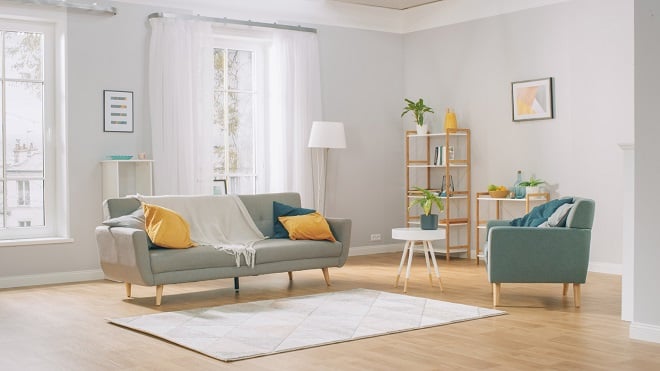 Modern, bright and comfortable apartment, with large windows, elegant decorations and furniture. Credit : gorodenkoff
The living room is a real living room. Therefore, its decoration should not be neglected, because it is important that you feel good in it. Do not hesitate to opt for soft materials: soft plaid blankets, long-pile rugs, colorful pillows. . . You can also add green plants clean the air and give a poetic tone to your living room or dining room. As for the walls, you can cover them with a wallpapers with various patternsfrom frames to trendy posters or even pictures in strong colors.