Edo Tokyo Kirari is an international collaboration program supported by the cities of Tokyo and Paris, which brings together Tokyo's fine craft professionals and designers from the Bureau du Design, de la mode et des métiers d'Art network. Review of the 2021-2022 edition
When Parisian designers and Tokyo manufacturers meet, it results in the magnificent creations presented at the latest Maison&Objet show. It is about the Edo Tokyo Kirari project, an international cooperation program supported by the cities of Tokyo and Paris.
French design in dialogue with Japanese craftsmanship

The goal is to renew the offer of Japanese professionals and enable Parisian designers to discover Japanese know-how.
Deeply rooted in Japan's cultural and historical heritage, Tokyo crafts (glass, dyeing, textiles) talk to Parisian designers about new objects. Functions, uses or forms are renewed to shed new light on these skills.
Thus, after the tender, three designers, former Ateliers de Paris residents were selected: Jean Couvreur, Pauline Androlus and SCMP Design Office.
They and they collaborated with six Japanese manufacturers: Kimoto Glassware Co. ltd, Marukyu Shoten, Matsuzaki Ningyo Co. Ltd., Nakamura Inc., Edokiriko Shop Hanashyo and Ryukobo Co. Ltd.
The objects created during this program were presented at the Maison&Objet fair in March 2022.
Achievements of laureates

Pauline Androlus with Hanashyo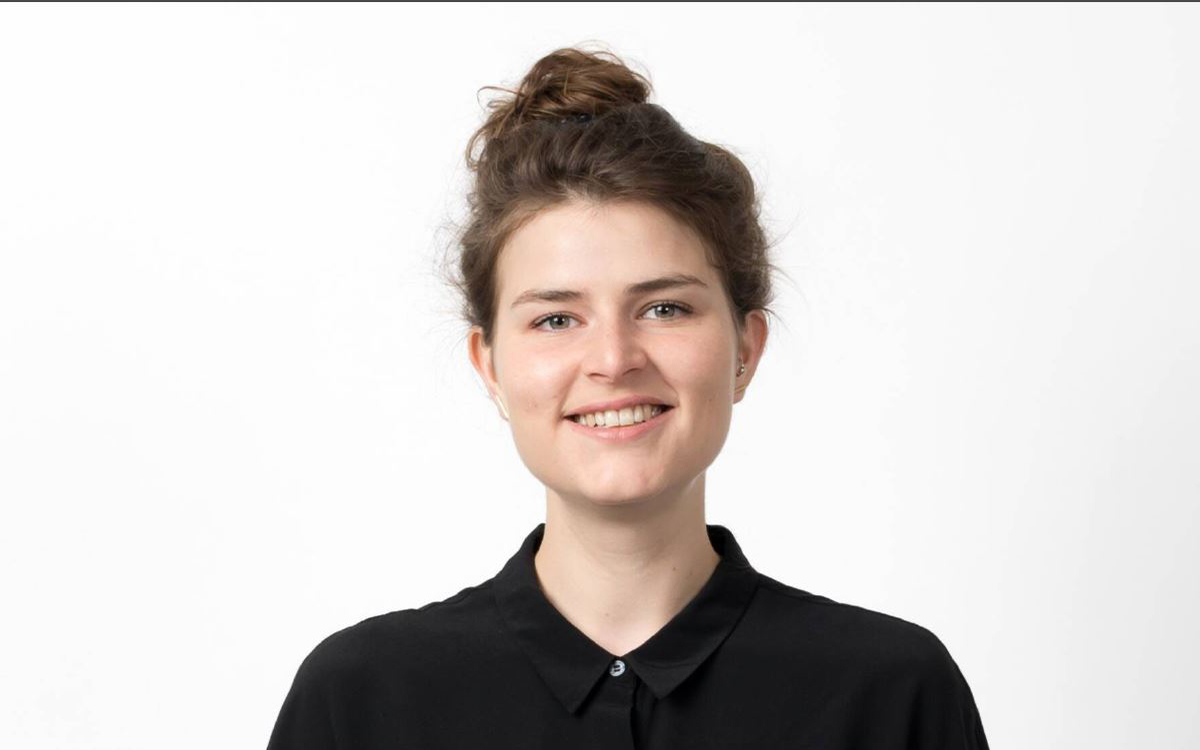 Apparatus is a research project around the "grain of rice" motif called "Kometsunagi" that he created Hanashio, and their expertise in Edo Kiriko glass etching.
At the request of Hanashyo, Pauline Androlus designed a pattern collection inspired by their signature. This reinterpretation of "Kometsunagi" gives a different take on their traditional motif. The goal is to refine it in order to emphasize the precise operation of the size, thus simplifying visual and tactile reading.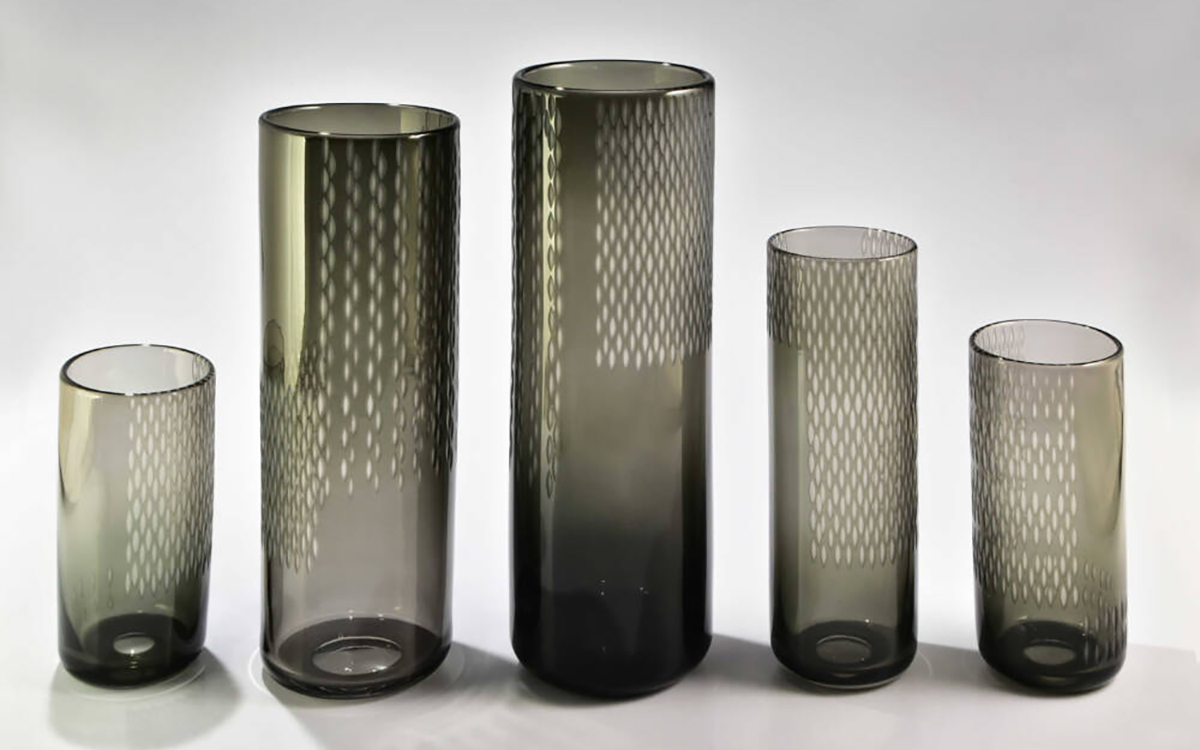 Pauline Androlus with Marukyu Shoten

Marukyu Shoten is a Japanese traditional and hand-made textile dyeing company called chusen used to make yukata and tenugui. The collaboration with Marukyu Shoten Panorama consists of two projects that can live together or independently.
The first object under the title Miru is a support for exhibiting chusen textiles. Made of brushed brass and with graphic and discreet lines, this support sublimates the textile and highlights this printing technique. Another project Blue escapes is a collection of interior patterns closely related to supports and architecture.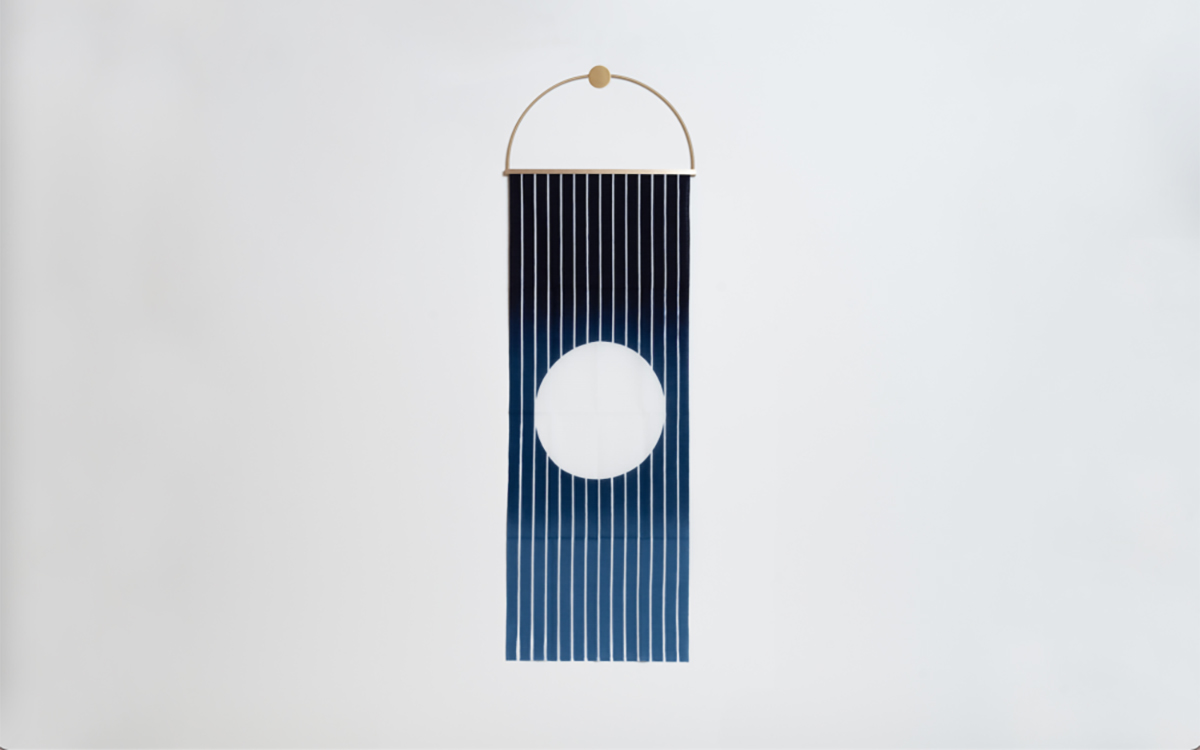 Jean Couvreur and Nakamura LTD.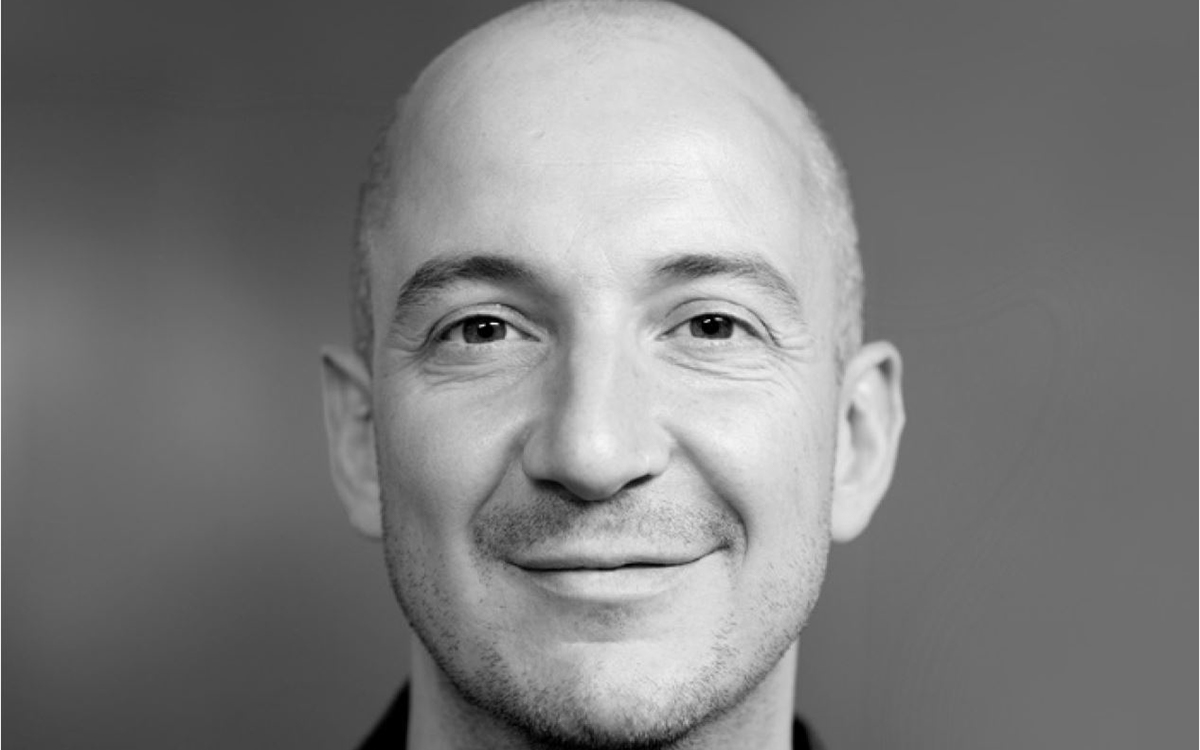 Nrail offers the Norens fastening system. It is made of wood and is installed directly on the ceiling, not in traditional fabric coverings. It is extremely simple in use, design and material.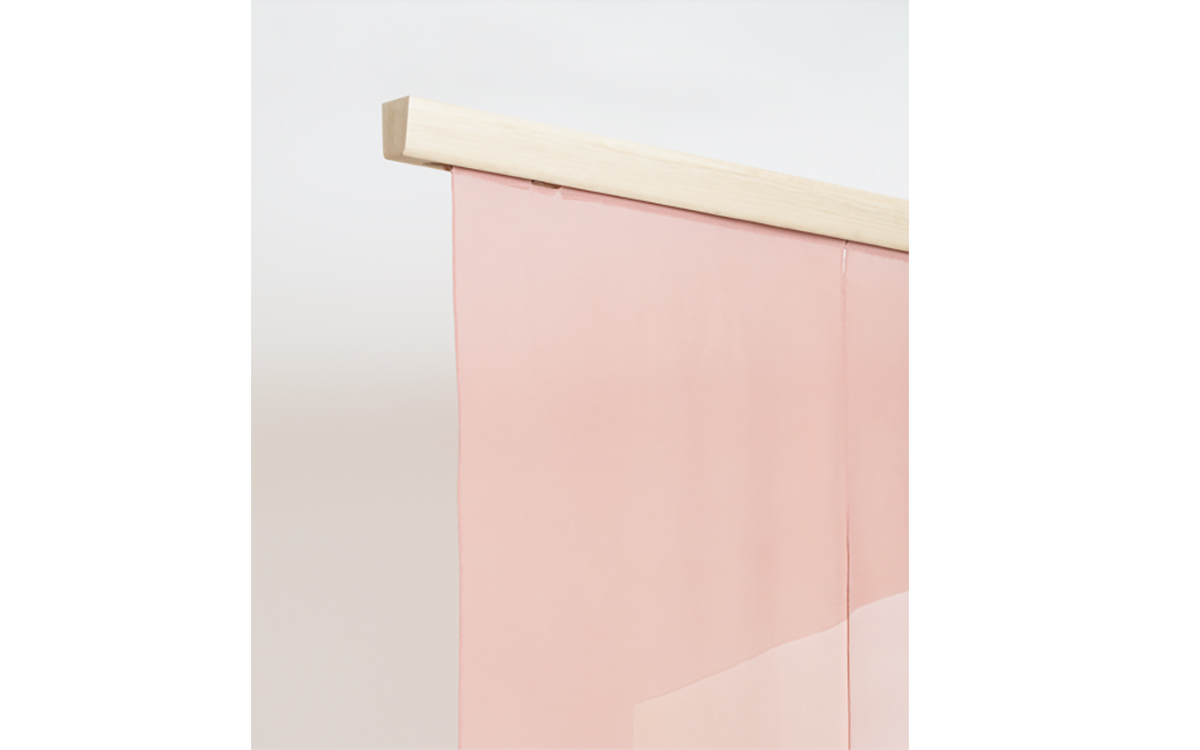 Jean Couvreur and Matsuzaki Ningyo CO.LTD

The company Koikko has been producing Japanese Kimekomi figurines for three generations. They are offered to friends and family members at popular festivals.
Mr. Matsuzaki's specific know-how consists in making wooden dolls, but also in patronizing and meticulously applying brocade (pieces of traditional silk) to the body of his figurines.
The Petit Temple project uses this knowledge and experience to create storage boxes.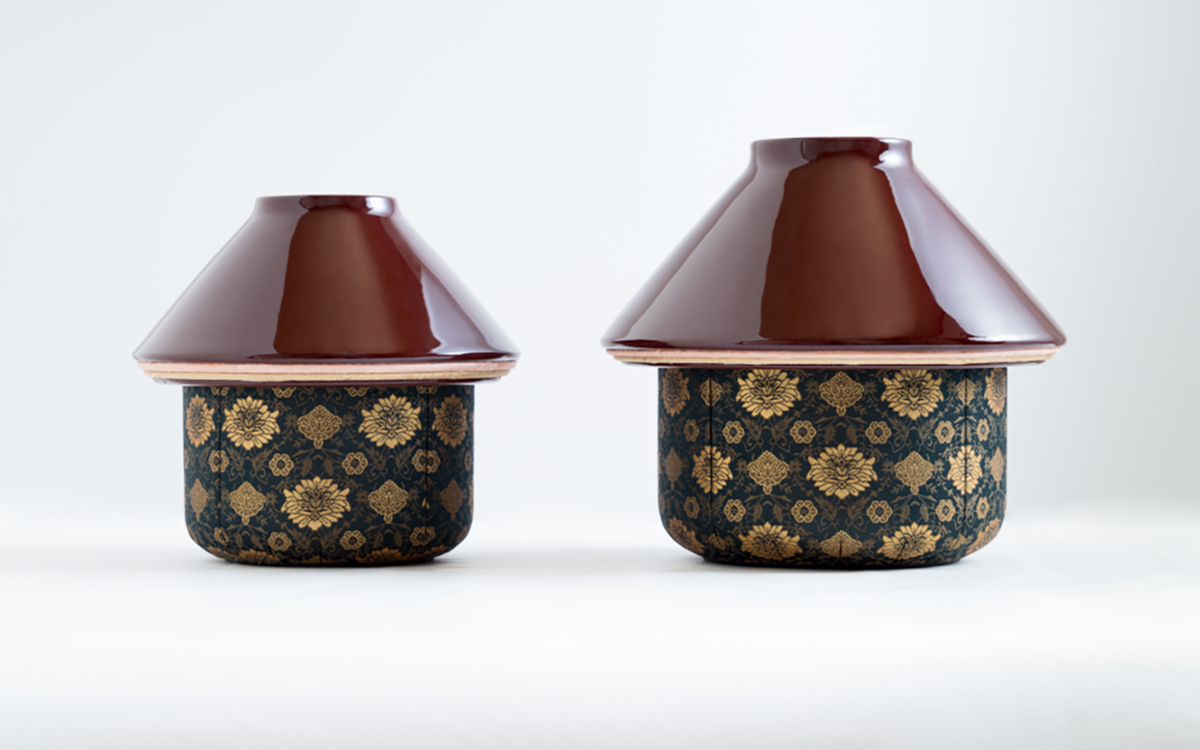 SCMP Design Office and Kimoto Glassware CO. LTD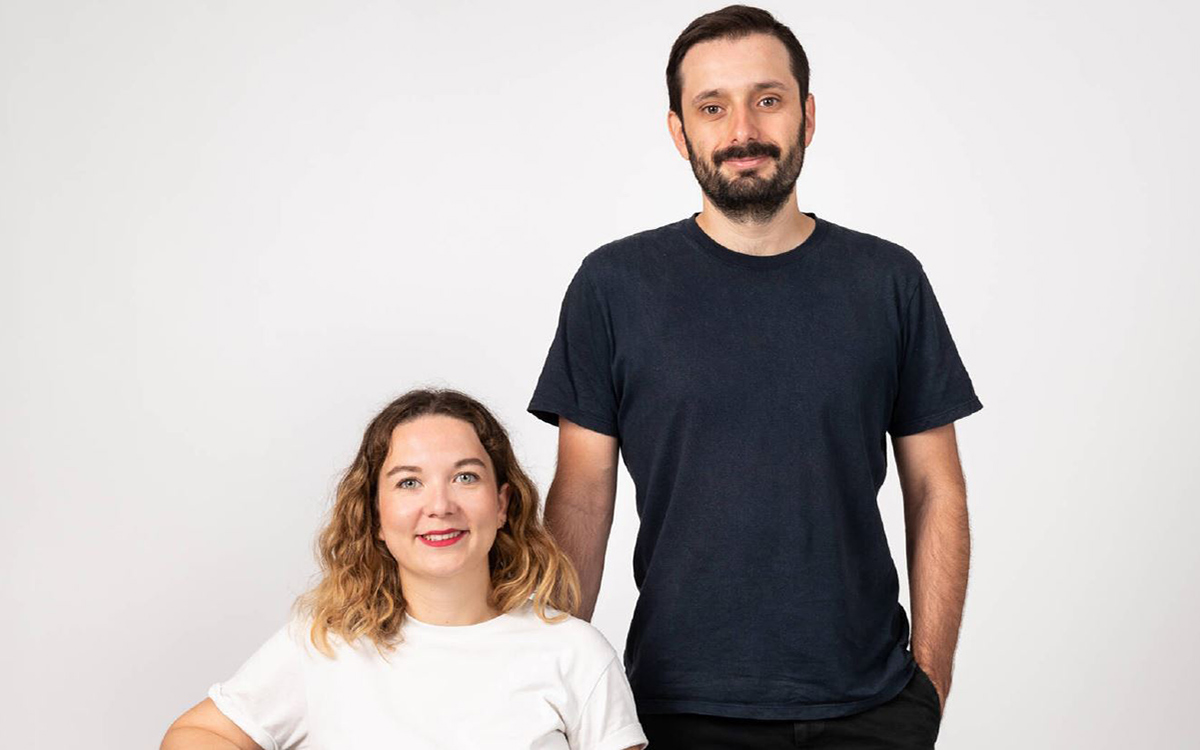 Collaborating with Kimoto glass, the designer's goal was to first discover Japanese culture through sake, but above all through the world of glassware. Working with transparent glass is first of all working with light and reflection between transparent glass and sake. The concept of OPTICA was to design a set of sake glasses by studying the thickness of the glass and the weight needed to taste sake.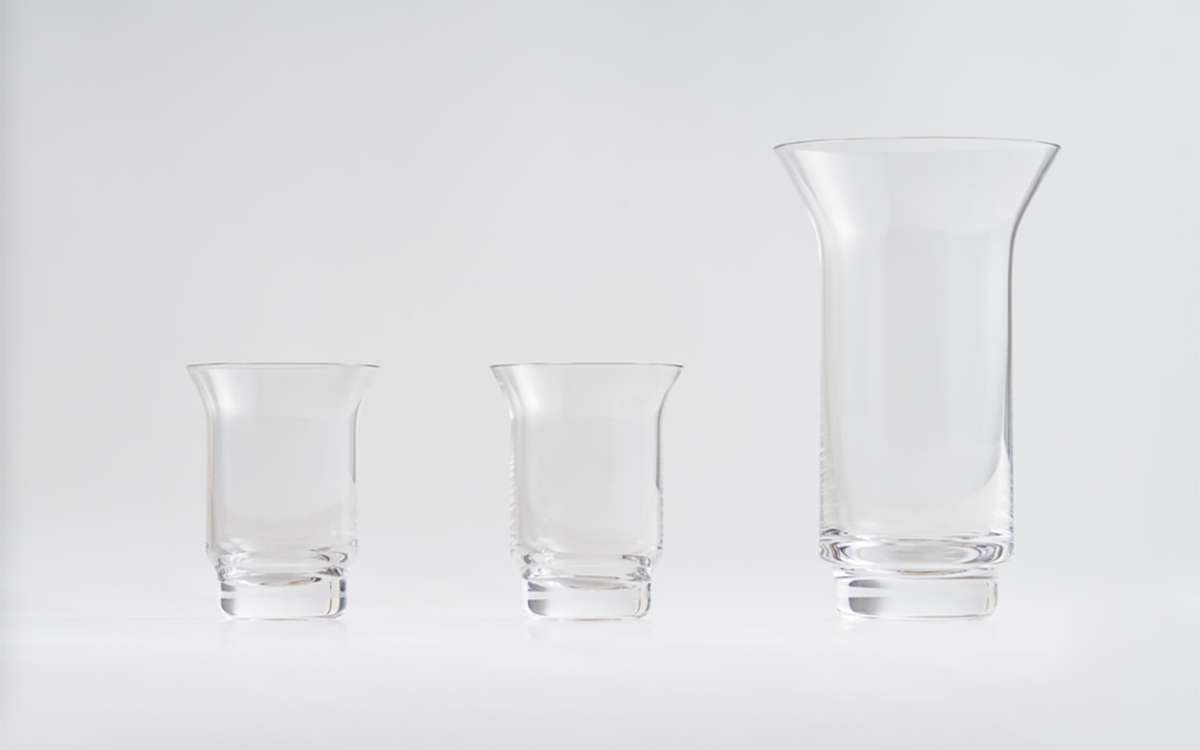 SCMP Design Office and Ryukobo CO. LTD.

With this scarf project HOSO, the SCMP Design Office wanted to explore one of the 350 Kumihimo techniques that Mr. Fukuda and his family have mastered. When the designers saw the flat weave pattern of the silk, they directly wanted to create a larger piece that could have its place in the home space. By combining these colored strips of woven thread, the designers wanted to create a pattern inspired by the television pattern and what can be created with the floor layout. The idea was to show that it is possible to design large pieces using some of the best and most precise Japanese knowledge and experience.