FDME-FNAS presented this Tuesday its economic study on the purchase of sanitary equipment, heating and plumbing by commercial networks in France in 2021. The year is qualified as a "catch up" after 2020 marked by a health crisis. Purchases in trading thus reached 4.9 billion euros or +20% compared to the previous year.
In 2021, the purchase of equipment for heating, sanitary and water installations amounted to 4.9 million euros or +20% compared to the previous year, according to the annual study presented by the Federation of Distributors of Electrical Materials and HVAC (FDME) and the Federation of Dealers in Sanitary Appliances, heating – air conditioning and pipes (FNAS).
A clear jump for all product families
Heating still accounts for more than half of purchases, 55.8%, compared to 28.4% for sanitary facilities and 15.8% for plumbing. However, water supply recorded the largest increase in 2021, with +24.2%, ahead of heating (+20.5%) and sanitation (+17%).
Breakdown of purchases in trading by segments. Source: FDME-FNAS study
Jean-Pascal Chirat, general delegate of the Home Improvement Club (CAH), specifically presented the results of commercial purchases in heating. All product families grew between 2020 and 2021.
As in the last Uniclima report, the products with the strongest momentum are air/water heat pumps (TČ), with +39.4%, while TZ air/air recorded a slowdown, with only +3%.
In addition to air/water heat pumps, other product families are growing strongly: hot water radiators with +31.7%, wood and multi-fuel boilers (+30.6%) – increasingly supported by MaPrimeRénov '-, single and double flow VMC (+ 29 .3%), or thermodynamic boilers (+24%). This latest increase can be explained in particular by new home deliveries catching up, after the shutdown in 2020. Another positive point to note: the recovery of solar equipment, with +5.5%, after 8 consecutive years of decline.
Michel Cattet then focused on sanitary equipment, which represented 28.4% of trade purchases in 2021 (after 29.1% in 2020). Specifically, faucets make up 32% of purchases, ahead of sanitary ceramics (21%), and shower cabins and screens (14%).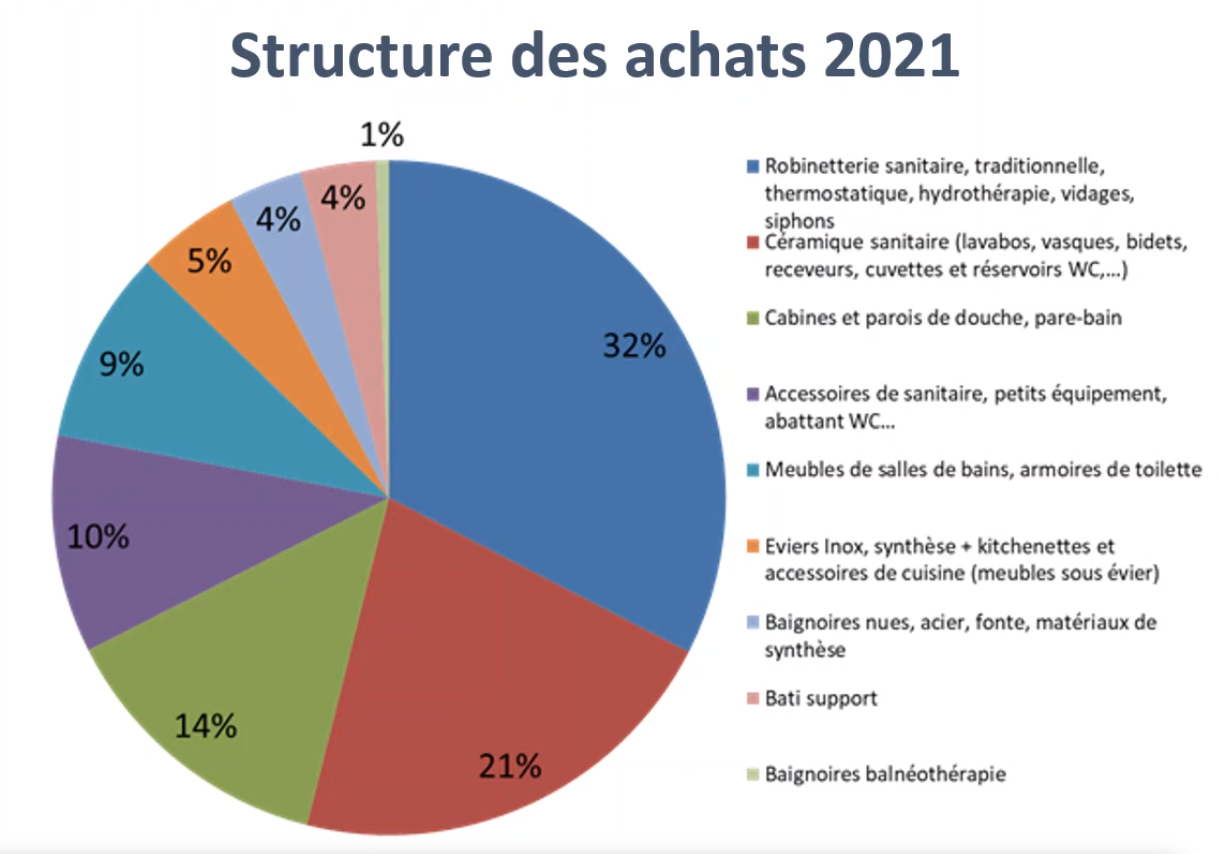 Sanitary ware: distribution of purchases in stores in 2021. Source: FDME-FNAS study
The plumbing segment recorded a good recovery, with +22.1% in sales and +24.2% in purchases in 2021, after -9.9% in 2020. Copper pipes represent the majority of purchases in 2021, up 16%, but the distribution remains larger or smaller even with other pipes and fittings made of other materials (brass, PER, plastic, cast iron, steel, stainless steel). Overall, this segment now represents 57% of plumbing purchases, compared to 55.5% in 2019 and 2020.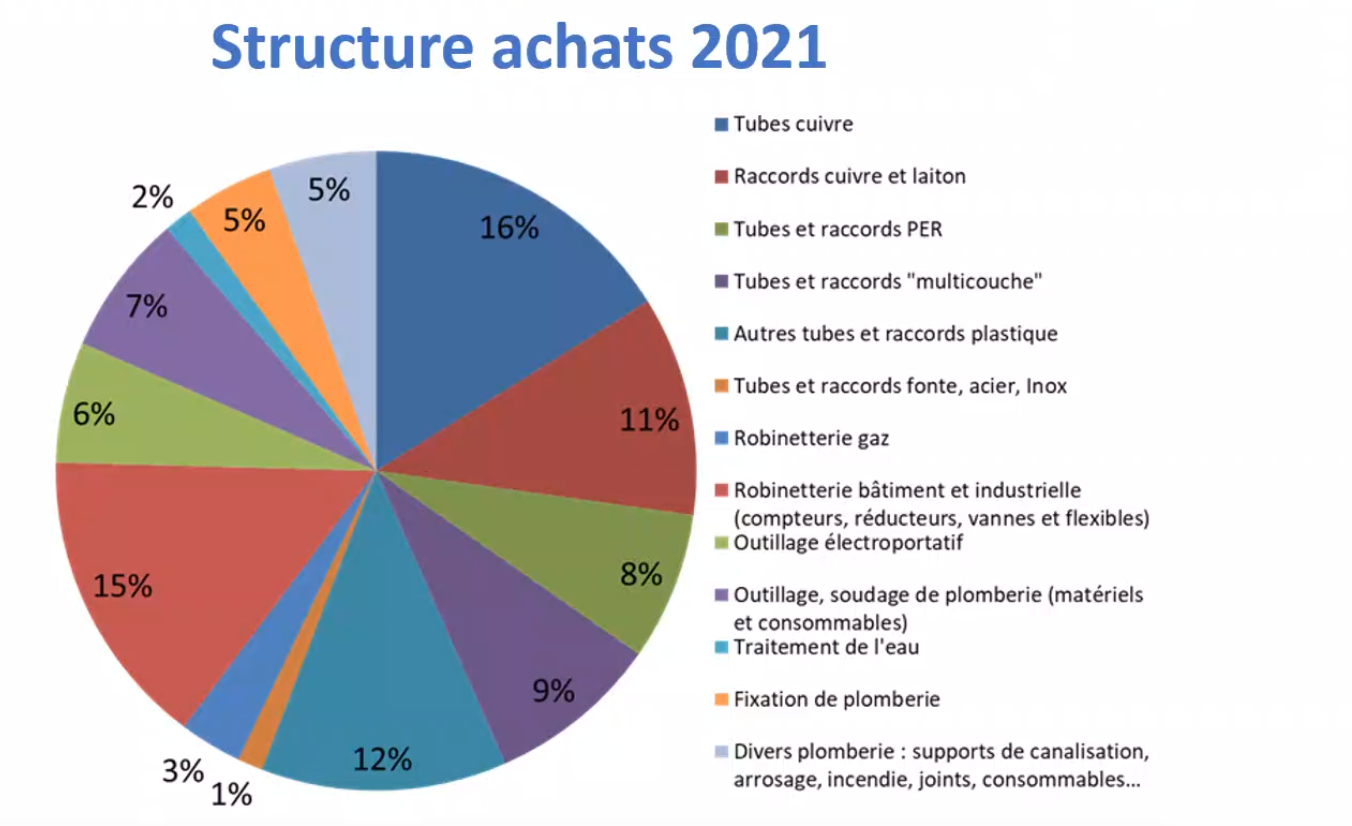 Plumbing: distribution of purchases in trade in 2021. Source: FDME-FNAS study
Inflation and shortages: uncertainty hangs over the coming months
After presenting these figures for 2021, FDME-FNAS discussed the outlook for the coming months. Although still predicting dynamic months, especially thanks to the help from MaPrimeRénov', the union is a little more impatient about the implementation of MaPrimeAdapt', which should allow the creation of work for the adaptation of residential buildings, especially in bathrooms. However, according to the union, this new aid should not come into effect before the end of 2023.
The outlook for 2022 is also more uncertain with " inflationary shock », rising prices and supply difficulties or even a permanent lack of skilled labor.
Claire Lemonnier
Featured photo: Adobe Stock