Give preference to white and avoid dark or flashy colors
Are small parts doomed to be clear?
Maÿlis Bigot: "You have to be careful with dark or too flashy colors. On the other hand, it can be used with a small touch. It can make a room original and give it a beautiful energy. But if the color is too strong or darkens the room, it can affect the mood and atmosphere of the room. For the white color, if it is too present, it can leave a bad impression: a pale or too cold room. It's all about matching the shades well, it all depends on the style you want to bring. For example: for a contemporary look, white goes perfectly with black. If you don't add color, blue and green (and their shades) will go perfectly with white. »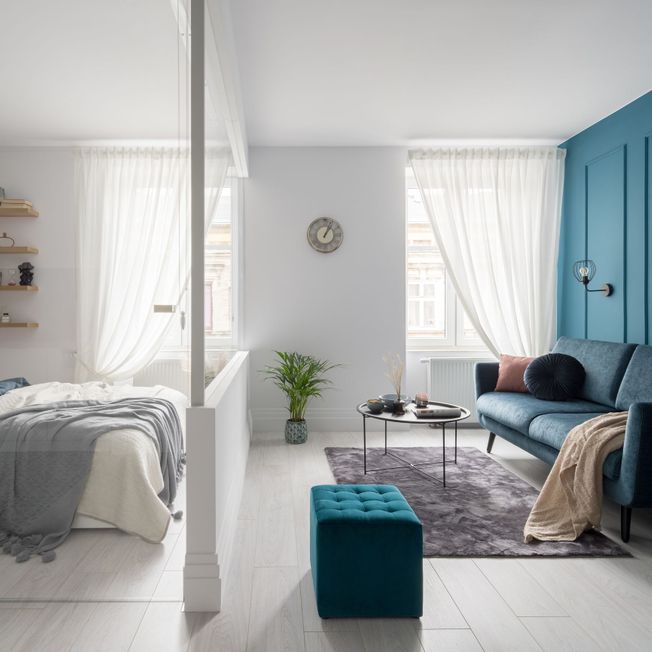 Studio with a touch of blue on one wall. ©iStock
Opt for retractable furniture or modular furniture
Is that still possible?
MB: "Most of the time, yes, it is possible. It all depends on the overall aesthetics of the project and the constraints. You can also have furniture that can be stretched out or even storage that can be stacked, such as nesting tables or wardrobe beds. It is adaptable to the needs of customers and to their desire to optimize their space. »
Use the ceiling height to create storage
Is it still in operation?
MB: "Optimization of space should be a priority, especially in Paris. For all our full height furniture, we will finish with a small spindle to give a better finish and take up floor to ceiling space. »
Realization of warehouse optimization by BeHome Interior, an agency for interior design and custom-made furniture.
Put big mirrors
Mirrors make rooms look bigger, but can you place them everywhere?
MB: "Using large mirrors is great for enhancing the look of a room. This will add depth and decorate the wall. On the other hand, we won't be able to place them everywhere, it's best to place them near a light source, whether it's a window or a light. »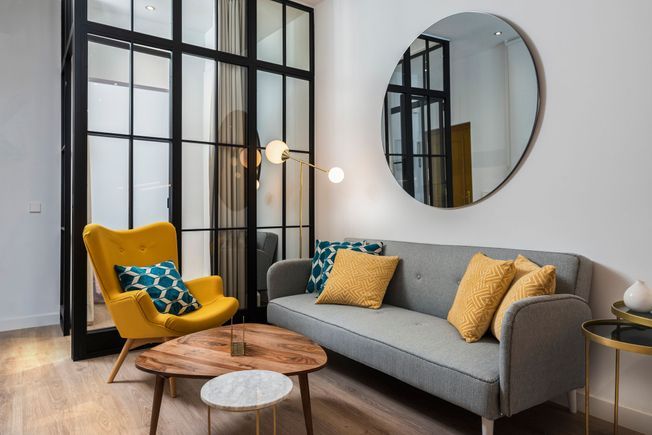 A small living room with a large mirror.©iStock
Delimit the space with modular partitions
Is it better to keep the space completely open or demarcate spaces to create transitional pieces?
MB: Open spaces are currently in trend, but because of this, any area can lose its functionality. As a result, we generally integrate full-height glass doors or glass roofs, in a minimalist style, so that the space is not overloaded with details. They are modular, which gives numerous possibilities of adaptation to different interiors: whether they are swivel, sliding, fixed with hinged doors, etc. »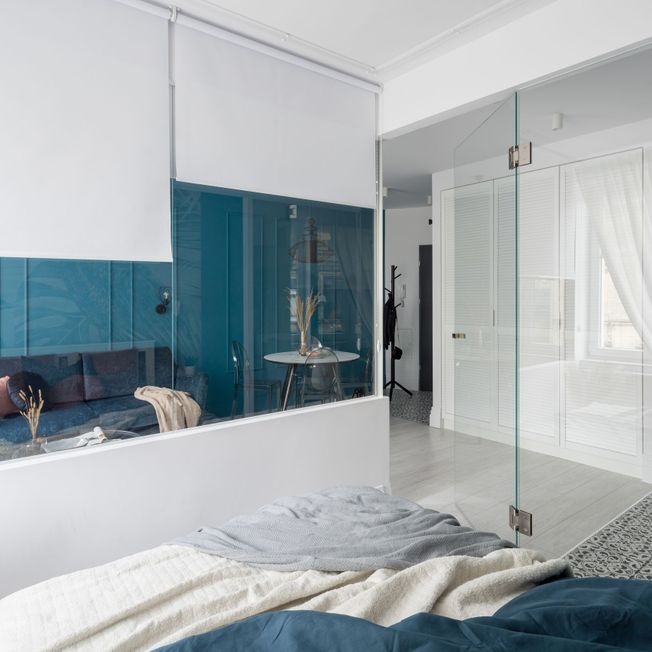 A studio apartment with a glass roof and blinds separating the bedroom and living room. ©iStock
Stay minimalistic
How do you manage to personalize your small home without overwhelming it?
MB: "Initially, it will depend on the size of the room to be decorated. The best way to avoid overloading the room is to dress up the walls, for example, with shallow bookshelves on part of the wall or to optimize lost corners. Circulation will be more free in the center of the room, and there is enough storage. »
What are your personal tips for decorating small spaces?
MB: "Made to measure and at first a good distribution of space. »