Wood and white bring elegance to the kitchen. This combination is popular among decorating enthusiasts. Here are 20 ideas for white and wooden kitchens.
White and wood, between purity and warmth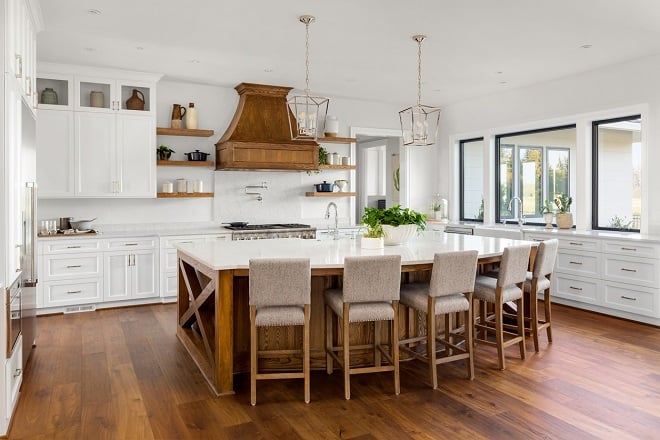 Modern wood and white kitchen Credit: hikesterson
See also
The the kitchen is one of the most important rooms in a house or apartment. It is a space where cooking and eating are real pleasures. The family also gathers there to spend time together. The kitchen has changed a lot from its installation in modern dwellings (houses or apartments). You should know that it used to be a special room, even outside the house. Today, the kitchen has become a real living room.
One of the best combinations for decorating the kitchen is that wood and White. the wood brings a lot of warmth piece. This is very versatile material which easily fits into any style of decoration. He can make a kitchen modernas can bring a vintage atmosphere, almost a classic. As Whitethis color is synonymous with purity. White brings a lot of light into the open kitchen. And just like wood, it is whitea color that perfectly adapts to any decorating style. It is important to pay attention to every detail and arrange the kitchen properly so as not to overload it. In decorating, whether it is the kitchen, bedroom, dining room, living room or any other room in the house or apartment, everything is in balance.
20 ideas for white and wooden kitchens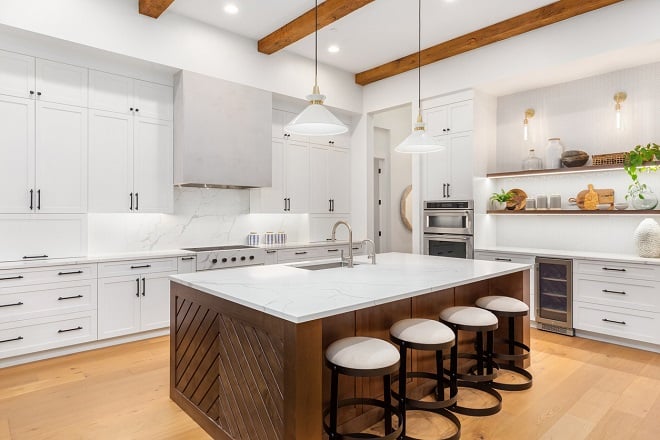 Modern Kitchen Credit: hikesterson
Do you lack ideas for the arrangement of a wooden and white kitchen? Here are our tips.
Classic American cuisine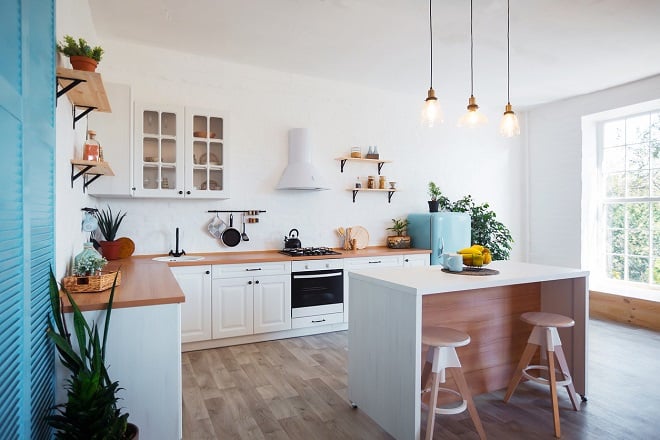 American cuisine Credit: sergiophoto84
The American style kitchen is the most common style of kitchen in a modern house or apartment. This is an L-shaped kitchen, located in the corner of the room. The American kitchen offers enough work space, and its layout is intelligently thought out to make the kitchen as functional as possible.
For this style of kitchen, opt for a worktop and storage units (cupboards, drawers, etc.) as well as a wooden backsplash. Simply paint the walls white and you're done.
Kitchen inspired by bohemians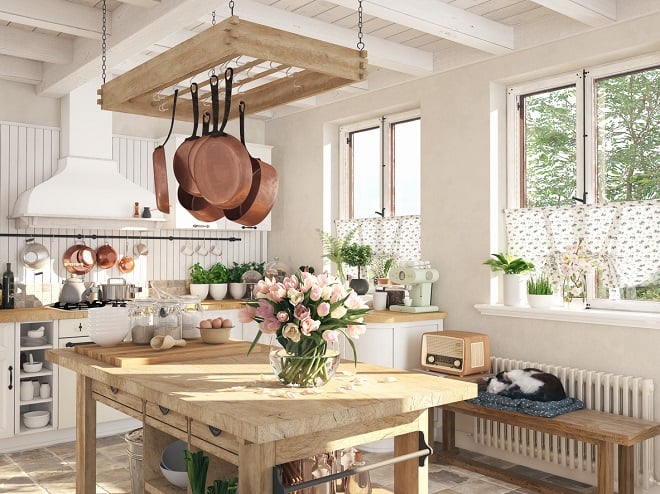 Bohemian cuisine Credits: 2Mmedia
the bohemian style is currently a very popular trend. Indeed, the bohemian style makes the kitchen cozy and pleasant to look at. You will definitely love spending time there, both eating and preparing delicious meals.
The peculiarity of the bohemian style is that it is a current of design decoration, while remaining simple and unexaggerated.
A bohemian-inspired kitchen usually has a small dining table to reminisce about friendship. Why not choose a wooden table? Also add a pristine white floor and walls. You can even take it a step further by painting the wood white. Just be careful not to overdo it, so that the wood does not lose its legendary natural charm.
Wooden / white / designer kitchen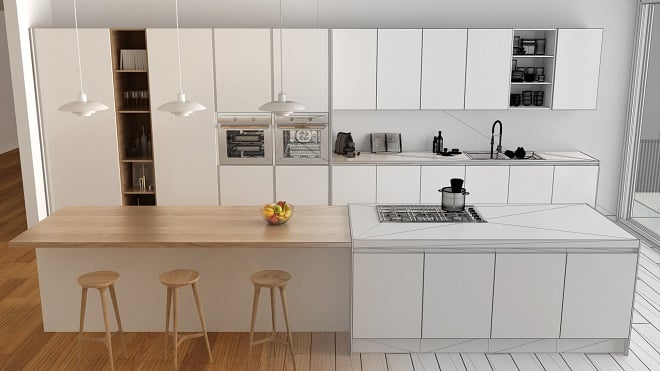 Designer Kitchen Credit: ArchiViz
AND designer kitchen it is generally based on precise decoration, with geometrically shaped accessories and furniture. A designer kitchen is automatic equipped with a central island, one of the most important elements for today's kitchens. You can refine the wood by installing it tea candle holders and street lamps in the wood. This creates an interesting contrast with the designer's style.
Modern country style kitchen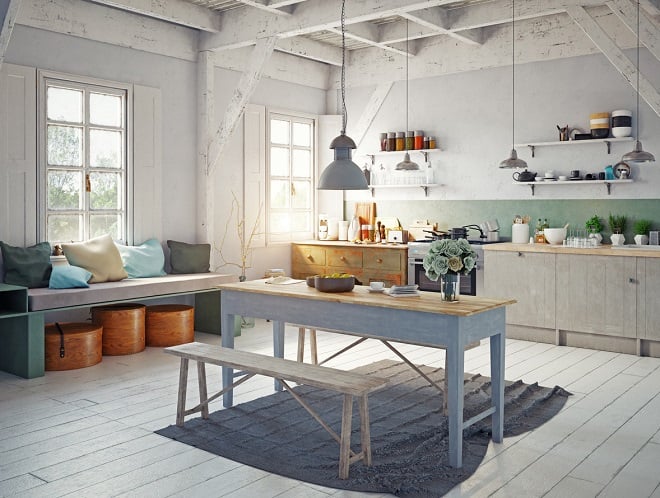 Country Chic Kitchen Credit: vicnt
For the kitchen layout project, decide on country-chic trend. It characterizes himhuge wooden beams placed in the form of a grid on the kitchen ceiling. The raw effect of wood creates a rustic atmosphere in your kitchen. For a country-chic trend, opt for storage furniture, as well as a white floor. To get to the bottom of things, it is possible to replace the central island with a bar.
White kitchen, wood and a touch of color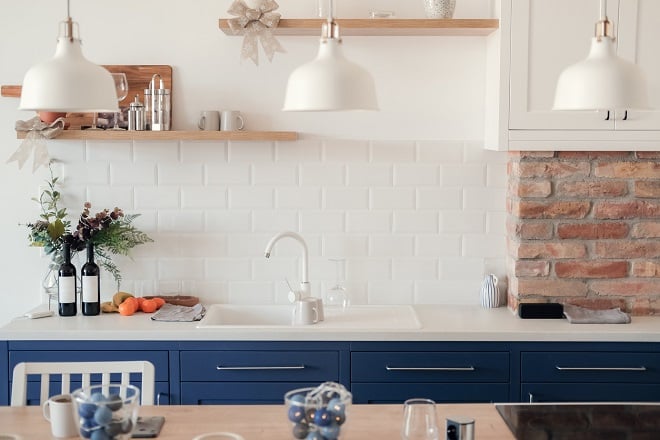 Modern Kitchen Credit: Space_Cat
IN modern decorationAnd splash of paint he is always welcome. You can for example paint the wall green and leave the other walls empty. Green is a color that goes wonderfully with wood. In combination, greenery and wood emphasize the natural atmosphere provided by the interior decoration.
Modern retro kitchen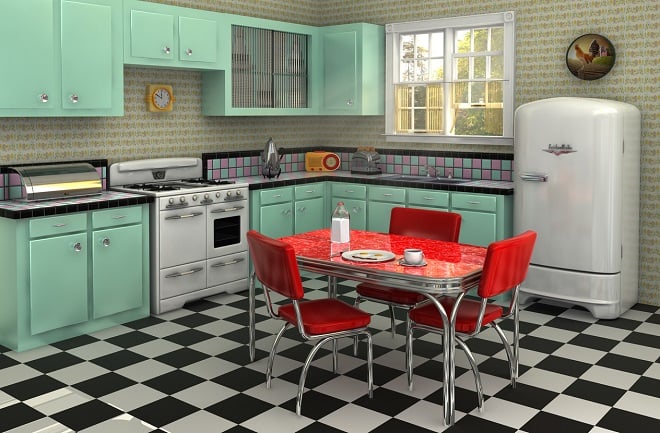 Vintage Kitchen Credit: jgroup
As the time goes by, old things become more and more important to us. This is why it is retro style it is also appreciated when it comes to interior decoration. the vintage look it can be perfectly adapted to the kitchen. For example, you can opt for devices in a style reminiscent of devices from yesteryear.
For this style of decoration, it is recommended to install a work space made of solid wood. Paint the rest of the room white. And in order to create an interesting color contrast, you can, for example, decide to install a vintage red refrigerator or even a black metal sink and faucet, currently very trendy.
Small white and wooden kitchen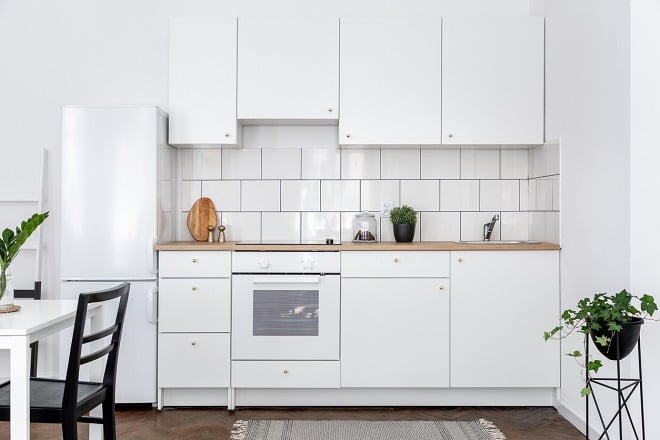 Small wooden and white kitchen Credits: in4mal
If you have a small kitchen, the whole thing is to be able to bring in the maximum amount of light to give the impression that the room has more space. If possible, place your kitchen near a window or dig a window where the kitchen should be.
White is a bright color, perfect for small kitchens.
Large elegant white and wooden kitchen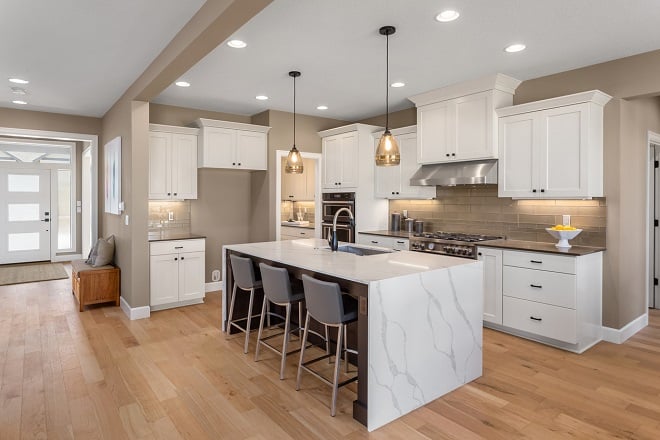 Refined cuisine Credits: hikesterson
Kitchen in sleek style it must always look clean and tidy. This is exactly why white is the ideal color for this type of kitchen. However, it is necessary to choose built-in storage furniture for a kitchen in this style. Their style should be as simple as possible, without decorations and clean straight lines. It is also advisable to choose storage furniture without glass, so that the appearance of the kitchen remains uniform.
A mixture of white, wood and black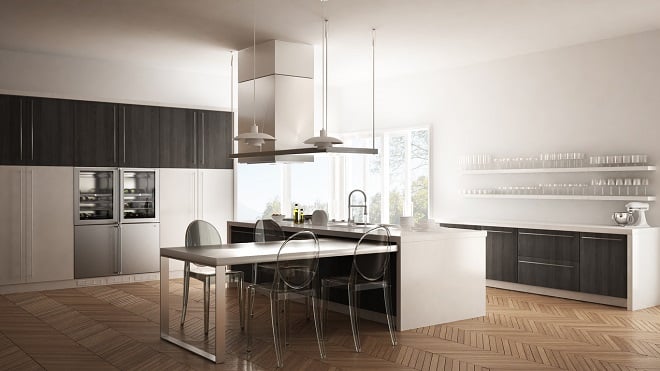 Kitchen in white, wood and black Credits: ArchiViz
theblack and whitethey are of contrasting colors, but perfect for interior decoration. Putting a few touches of black in the trim in white and wood is a clue to dig. For example, the edge of the storage units can be painted black. It is also possible to opt for small accessories in black, such as knives, household appliances or drawers and cabinet doors for storing things.
Kitchen in a minimalist style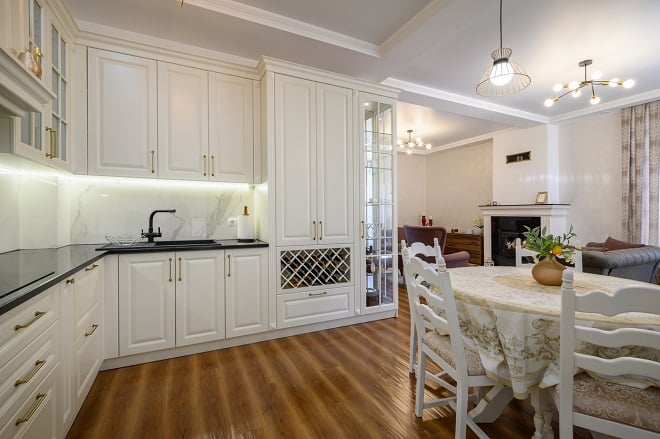 Minimalist kitchen Credits: Serghei Starus
the minimalism characterized by doing as little as possible to achieve something relatively simple. A minimalist kitchen goes towards essentials, without decorations and unnecessary accessories. Minimalism is more than a decorative trend. It's a real way of life apply to all different aspects of life.
Timeless Scandinavian cuisine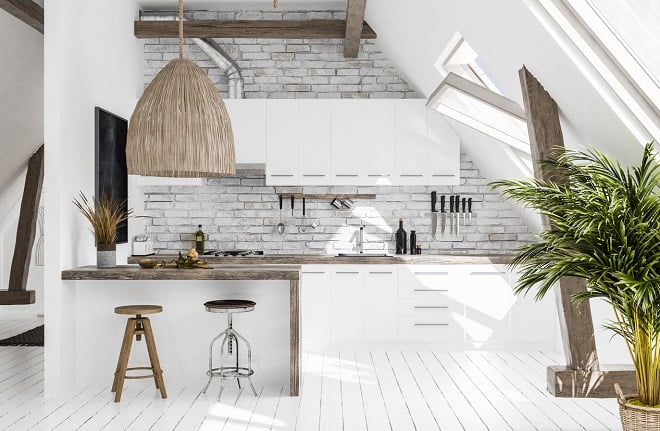 Scandinavian cuisine Credits: Bulgac
The Scandinavian cuisine are timeless classics. Scandinavian facades are elegant, but remain very sober. If you are interested in this style, know that the market has many brands specializing in Scandinavian furniture.
White and wooden kitchen with central marble island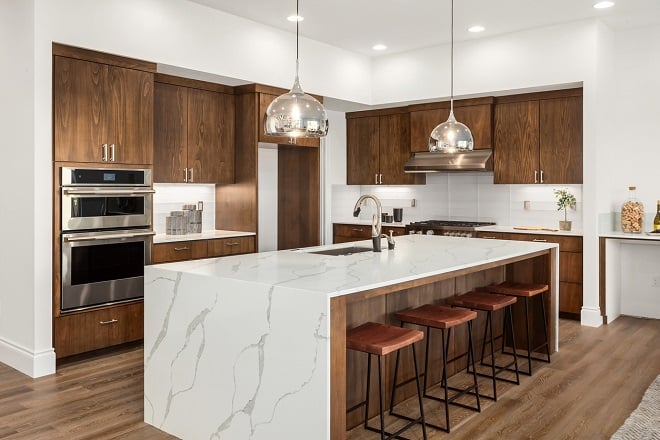 Modern kitchen with marble island Credit: hikesterson
l'central island is one of the most visual elements in the kitchen. White islands are refined and elegant. It is an ideal island White marble marbled effect (two-tone black and white) with a solid wood leg.
A kitchen with a mix of materials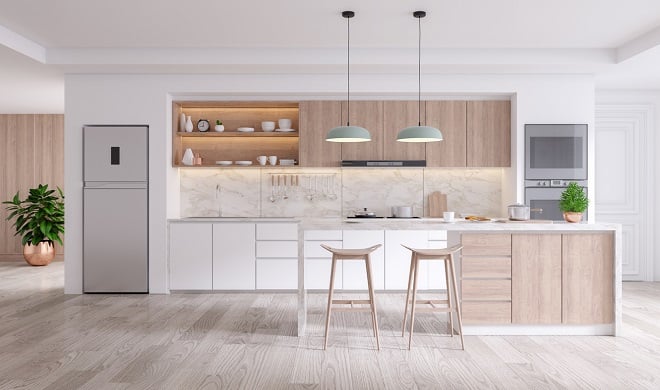 Modern kitchen Credit: imaginima
In order to emphasize the modernity of the kitchen, it is possible to make a mixture of materials. You can install in a wooden and white kitchen various black metal elements, whether it's floor lamps, a sink or shelf supports. Black metal for table and chair legs is also very effective. To add value to the black metal, opt for a white tile floor.
Kitchen with color contrasts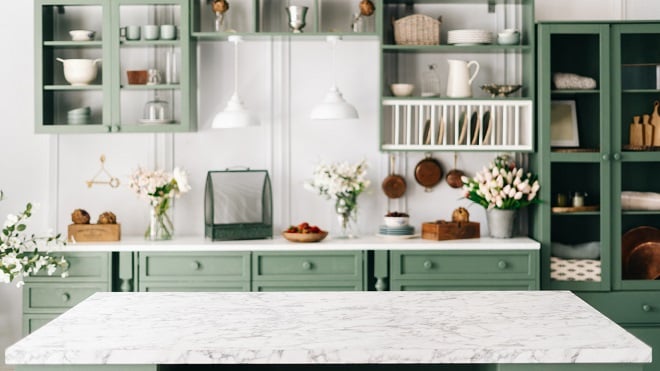 Kitchen in white, wood and green Authors: brizmaker
In decoration, every detail is important. In a predominantly white kitchen, put small additions of color here and there it becomes very obvious. For example, it is possible to install a worktop in a bright, trendy and striking color that creates an ideal contrast. The furniture and credibility it can also be in color. It's all about choosing a bright color that catches your eye.
Monochrome kitchen in white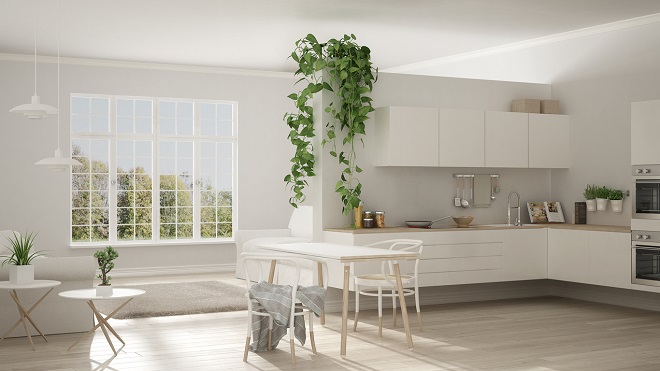 Modern monochrome kitchen Credits: imaginima
Why not try it floor to ceiling white kitchen ? Monochromatic is currently in fashion. For a successful monochrome, paint the wood in the kitchen white.
Fully equipped wooden and white kitchen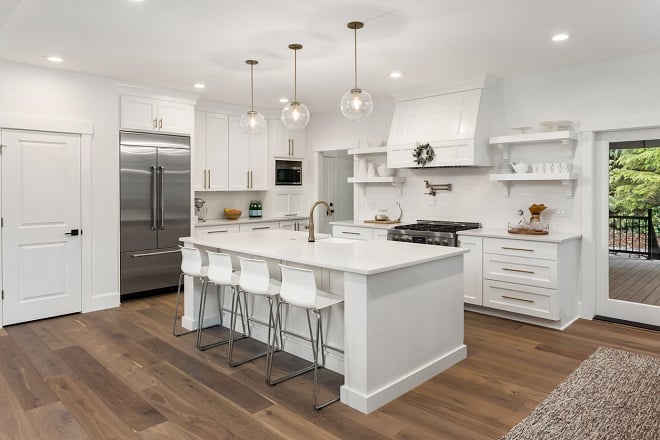 Fully equipped kitchen Credit: hikesterson
AND the kitchen must be functional. Therefore, opt for top-quality kitchen equipment for optimal practicality.
Wooden and white kitchen in ethnic style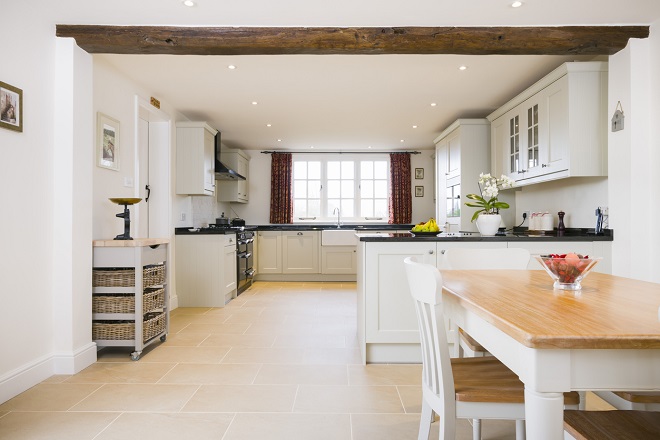 Kitchen with green plants Credits: CreativaStudio
To bringexoticism mix wood and white with green plants for your decoration. They can be in pots and placed on a work surface or on an island. For a better effect, they can be hung.
Wooden and white kitchen with an industrial atmosphere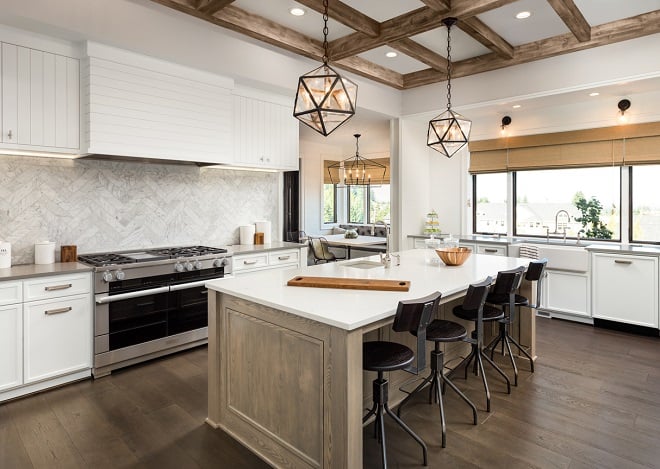 Industrial Style Kitchen Credit: hikesterson
the industrial style it also penetrates our kitchens. It is characterized by a strong presence of metal elements in the general decoration. It is perfect for kitchen decoration with predominantly wood and white color.
Elegant bistro-style kitchen made of wood and white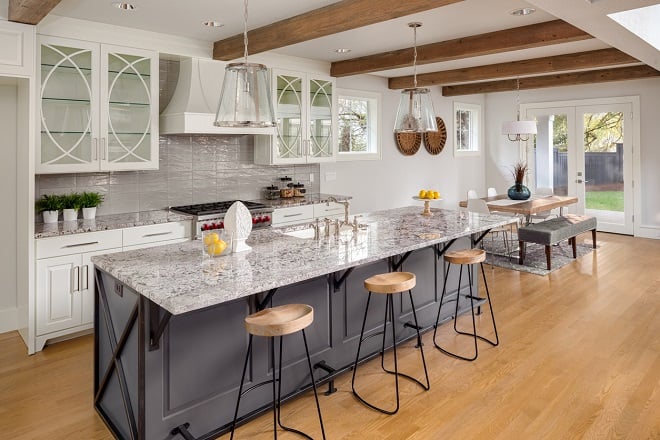 Chic bistro kitchen Credit: hikesterson
the chic bistro brings an authentic atmosphere. Opt for this style with wooden beams on the ceiling and walls for a rustic effect. The white bar will be connected with high metal chairs, to emphasize the rustic side.
Wood and white closed kitchen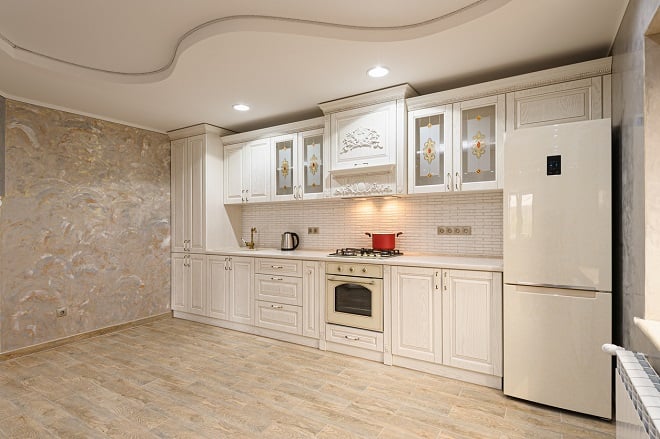 Modern closed kitchen Credit: Serghei Starus
If your kitchen is closed, get to the point. Choose minimalism to avoid cluttering the room as much as possible.